The 2018 U.S. Open and the Double Standards Female Athletes Continue to Face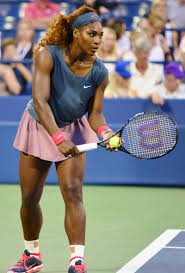 Hang on for a minute...we're trying to find some more stories you might like.
By now, most of you know about the controversy that started with Serena Williams' heated argument with an umpire during the 2018 U.S. Open. While some praise Williams' strong character, others criticize her defensive behavior.  Either way, there is no doubt that this situation has revealed many of the shocking differences between the treatment of male and female athletes.
After accusing 23-time Grand Slam tennis champion Serena Williams of receiving coaching during a game and witnessing her smash her racket, umpire Carlos Ramos gave her two code violations and awarded a point to her opponent, first-time competitor Naomi Osaka. Ramos's decisions, especially during the final match of such a high-stakes competition, were extremely atypical.
When Williams, understandably upset, began to call out the umpire for what she described as an attack on her character, Ramos extended his ruling, citing verbal abuse, and gave an entire game to Osaka. In tennis, the opponent who wins 6 games first, wins the set. Although Williams had been trailing 4-3 before the umpire's call during the second and final set of the match, such an unusually harsh penalty yielded an incredible influence on the outcome, preceding one of the biggest sports upsets this year as Osaka took home the championship. Williams, on the other hand, got to take home a hefty list of fines for her violations, totalling a whopping $17,000.
To understand the peculiarity of Ramos' calls, it is important to look at the long history of arguments between umpires and male players, many of which involve reactions much worse than the passionate words expressed by Williams.
For example, during the 2017 French Open, male tennis star Novak Djokovic insulted the umpire several times, telling him he was "losing his mind" and calling him "crap." This umpire, the very same Carlos Ramos from Williams' dispute, gave Djokovic several warnings, with no game or point violations.
In another match with Ramos as umpire, player Nick Kyrgios reacted angrily to a violation for a foot fault. Despite obscenely deriding Ramos' umpiring, Kyrgios received no additional penalties.
It's hard to see, given this precedent, how Williams' relatively passive claims could have yielded such extreme consequences.   Unfortunately, Serena Williams' experience with this umpire has not been the only encounter in which she was judged differently based on her gender. Following a very emotional and dangerous pregnancy, Williams was forced to wear a special outfit during her matches in order to prevent the type of blood clots that nearly killed her during childbirth. Just before the French Open, its president, Bernard Giudicelli banned her catsuit, made specifically for her by Nike, from the event, arguing one must, "respect the game and the place." Williams, being the queen that she is, showed up in a tutu. Still, she should've never been forced to alter her uniform to conform to Giudicelli's old-fashioned, sexist standards for female players.
Unfair treatment of female athletes in regards to their clothing is nothing new, either. When French tennis player Alize Cornet was penalized by an umpire at the 2018 U.S. Open for fixing her uniform top while still on the court, many outraged fans noted the countless occasions during which prominent male tennis stars, including Novak Djokovic, have removed their shirts on the court without any objection from anyone.
We see the unequal treatment of female athletes across every sport, from the infuriating wage gap between the male and female U.S. soccer teams to the sexist, old-fashioned uniforms imposed on female beach volleyball players, which up until 2012, mandated that they must all wear bikinis. These hurtful policies and regulations perpetuate the tired idea that women are less powerful, less interesting to watch, and less deserving of fair treatment compared to their male counterparts.
What's unfortunate is when women like Serena Williams fight back against this blatant discrimination, they are portrayed as vicious, shrill, and emotional, where the men would be depicted as strong, passionate, and even brave.  As for Williams, a black woman who is no stranger to unfair treatment due to her race and gender, such baseless generalizations begin to take their toll. She describes her struggle through adversity best with these words: "We should always be judged by our achievements, not by our gender."
And in the midst of all of this tension, Naomi Osaka, the first Japanese woman to win such a title had her success ridiculed and downplayed instead of celebrated. Both of these women were robbed of their right to play a fair and impartial game; but, while Williams' tennis season may be coming to an end, one can be sure that the growing focus on gender-based injustices in sports and the demand for equal treatment of athletes is not going anywhere.