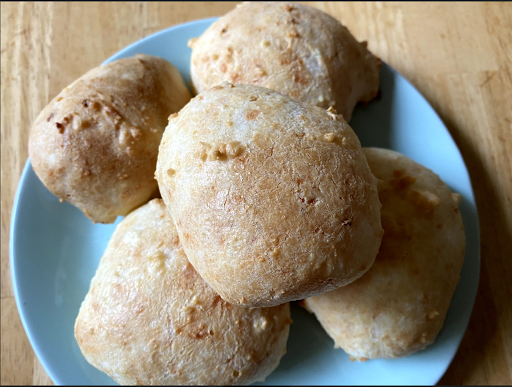 Emma Kingwell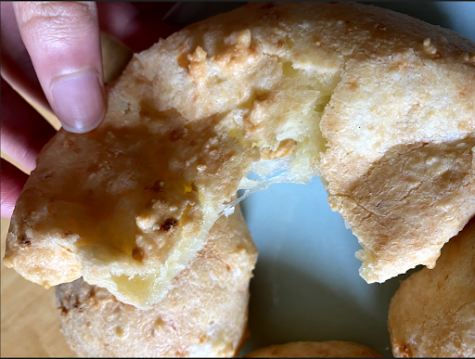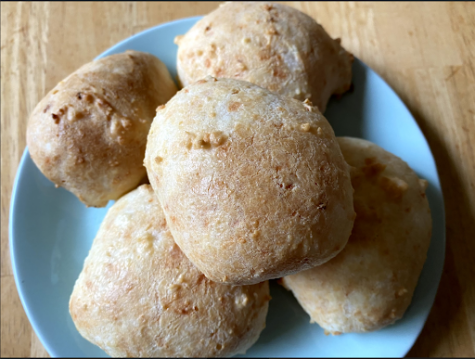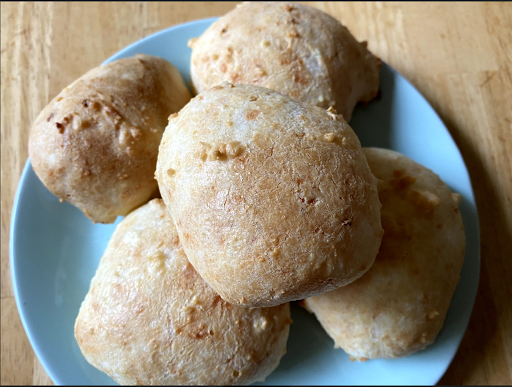 Pão de queijo (rough pronunciation: Pauwn deh kay zho) is a staple food in Brazilian culture. Pão de queijo is Portuguese for cheese bread. Although "pão" directly translates into bread, "pão de queijo" is more similar to a bun or puffs. Pão de queijo is also naturally gluten free.
Pão de queijo has a long history that can be traced back to the pre-1500s. According to The Guardian, before the Portuguese colonizers settled in Brazil (bringing slaves with them), the indiginous people there were already making a basic version of the bread with cassava. At the time, the land was not suitable for growing grains like wheat. 
In the process of working with cassava root, tapioca starch was formed as a residue. The slaves would roll the tapioca starch into balls of dough to bake as bread.
Later, around the 19th century (when slavery was abolished), milk, eggs, and cheese were added to the original recipe, forming the current-day pão de queijo.
Most Brazilian families have their own preferences and recipes for pão de queijo. You can alter the amount of cheese you add and also alter the crispiness. 
Pão de queijo can be paired with jam, butter, dulce de leche (milky caramel), drinks such as coffee or Guaraná (a popular Brazilian guaraná-flavored soft drink.  Guaraná is a type of fruit that looks like eyeballs, in my opinion), or even Nutella.
In order to understand some more, I interviewed Miguel, a fifth-grader at the Smith STEM school. His family is from Brazil, so he is very familiar with pão de queijo.
According to Miguel, the cheese is inside of the pão de queijo, not just on top. Pão de queijo can be eaten as a snack or also for breakfast. Miguel says that since this cheesy bread is really popular, you can even find it in grocery stores around here. 
Miguel was kind enough to send a recipe:
Ingredients:
½ cup olive oil
⅓ cup water
⅓ cup milk
1 teaspoon salt
2 cups tapioca flour (tapioca starch)
1 teaspoons ground garlic
⅔ cup grated Parmesan cheese
2 eggs
Directions
preheat oven to 375°F (190°C)
Mix olive oil, water, milk, and salt on a saucepan over high heat until boiling
After the mixture reaches boiling, remove from heat and mix in tapioca flour and garlic
Rest mixture for 10-15 minutes
Mix the cheese into the mixture (mixture should be chunky)
Divide the mixture into small balls on a baking sheet
Bake for 15-20 minutes (the tops should be golden brown)
The recipe makes about 10 rolls, which I baked for around 20 minutes.  I substituted soy milk for milk, and it would probably be okay to substitute butter for olive oil. 
Rather than baking all the rolls at once, you can save them in the freezer and bake them whenever you want (so you can eat them freshly out of the oven).
Although the pão de queijo can be combined with many possibilities, it tasted really good on its own and my family enjoyed it. I will definitely be making these again in the future!