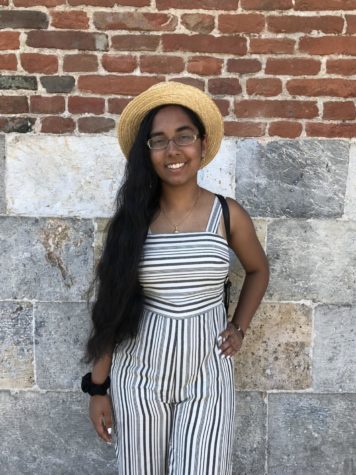 June 19, 2001,  Aleena Thomas emerged from the maternity ward of Saint Francis Hospital, setting in motion a life of unforeseen normalcy.  
Aleena is a modern teenager who enjoys the usual activities- hanging out with friends, listening to music, and, most importantly, napping.  However, she also participates in ancient, time-honored cultural endeavors such as traditional Indian dance.  This, along with extensive travel to more than 20 countries, has given her an "empathetic and relatable" outlook on the world, which she plans to use in her writing to "spread messages to others, and convey stories that people haven't heard… to be the voice of a person, or group of people, who haven't had a voice before."
In her spare time, Aleena enjoys reading, drawing, and painting. Additionally, she is a member of the Hall tennis team. She has also been inducted into an impressive three honor societies; the National Honor Society, the Spanish Honor Society, and the American Sign Language Honor Society.
Following her graduation from Hall, Aleena plans to attend either UCONN or Northeastern University to become a pharmacist, in the hopes that she can get people the help they need.
Aleena Thomas, Author
Dec 20, 2018

The Impact of Parkland Students

(Story/Media)

Dec 07, 2018

Space: The Current Frontier

(Story/Media)

Nov 26, 2018

Make America Rake Again…?

(Story/Media)

Oct 04, 2018

Full Time vs. Part Time Students: What's the Difference

(Story)

Sep 24, 2018

Breaking Misconceptions: Gen Z and Social Media

(Story)