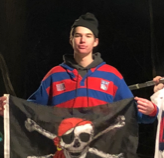 Andrew Skwiot, a 17 year old senior at Hall High School, was born in West Hartford, Connecticut. During his childhood, Andrew attended Bugbee Elementary School and then proceeded to King Philip Middle School.
Similar to how he is now, Andrew was very active, and participated in multiple athletic activities including football and baseball as well as some soccer and basketball. He decided to stick with football and baseball, and currently plays for both varsity teams at Hall. Growing up, his favorite subject in school was history, as it remains today. However, Andrew plans on majoring in business throughout his college career.
On a typical Friday night, Andrew says that he "sees what friends are doing, grabs a pizza, and just goes to hangout at someone's house," as he is a very social person. If he could travel anywhere in the world, Andrew says he would travel to Australia. He claims he wants to see the "cool animals such as Kangaroos," resembling his love for animals. Mirroring his active personality, Andrew's favorite season of the year is summer because he enjoys the "no school" benefit of summer as well as being outside with friends.
Andrew joined journalism because he enjoys writing as well as telling truthful stories that can help educate people about events and information around the world.
Andrew Skwiot, Author
May 21, 2019

Hall High Truth Tour

(Story)

Apr 26, 2019

Are Exotic Pets Good?

(Story)

Mar 29, 2019

Ready, Set … Dodgeball!

(Story)

Mar 15, 2019

Spontaneous with the Bros

(Story)