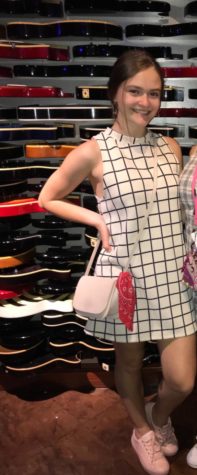 Carly Zyskowski, a senior at Hall High School, grew up in West Hartford living with her parents and a dog named Cody. Carly is sociable, enjoys getting involved in class, and likes collaborating with others as it's another way to get to know people. "I'd say I'm a good listener and like to hear and consider other people's opinions," she states. Although journalism is a subject that is fairly new for Carly, she has high hopes of improving writing skills through this course and getting familiarized with current news.
Dance is very influential in Carly's life, having gained experience in all forms of it over the course of 15 years. These commitments to dance have contributed to the role of captain of the Pops N' Jazz production for the past two years. In whatever free time is leftover, drawing and painting aid in relaxation.
As for post graduation plans, Carly would love to go into clinical or forensic psychology, though currently unsure of where to apply.
Carly Zyskowski, Author
Dec 21, 2018

California Wildfires

(Story)

Dec 11, 2018

Movie Review: The Grinch

(Story)

Oct 26, 2018

A Year in Review: Blue Reign's Double Standard

(Story)

Oct 04, 2018

The Stigma Around Community Colleges

(Media)

Sep 24, 2018

What They Don't Know About Gen-Z

(Story)