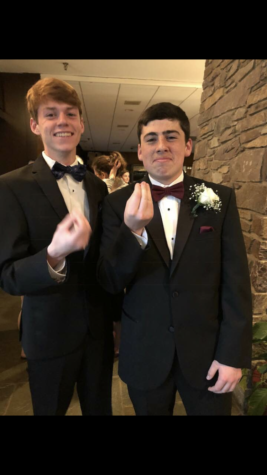 (Colin Delaney right)
Colin Delaney is a 17-year-old senior at Hall High School. A loyal friend, Colin is always around to help others and make people laugh. Colin enjoys sports, and is a dedicated football player who excels in scout offense. This monstrous athlete is also a pro ultimate Frisbee player and lives by that "Frisbee lifestyle".
When asked why he chose this class, Colin stated, "Something you don't get in most English classes is the chance to write about something you actually want to write about." Although Colin has never written for a paper before, this is not his first time being a part of the interview process. The aspiring writer has conducted and received various interviews for several diverse situations. He is interested in reporting sports news and conspiracy theories. Look to Colin for getting the inside scoop because this All-Star loves "getting to the bottom of things and finding out secrets." After high school Colin plans to go to college to pursue his future.
Colin Delaney, Writer
Dec 21, 2018

Channel 84 News: Top Stories From the Year

(Story)

Dec 07, 2018

From Virtual to Reality: The Effects of Violent Video Games

(Story)

Nov 21, 2018
Oct 26, 2018

Does the innocent-until-proven-guilty precedent still uphold in America?

(Story)

Oct 04, 2018

Gap Year: Is it Right For You?

(Story)