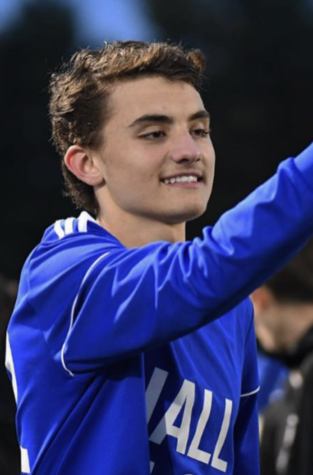 Enrik Pretashi is a senior at Hall High School who was born in Cogneliano, Italy. He lived there until he turned six years old, when he and his family decided to move to the United States. More specifically West Hartford, Connecticut where in the second grade he attended Morley elementary school.
Although he still misses family in Italy he "loves being here too", and has family in New York that he will occasionally visit but is also able to vacation and reunite with family in Albania and Italy.
Some of his interests include a variety of sports such as soccer, basketball, and ultimate frisbee. However when it comes to academics he mostly enjoys "the maths and sciences, more than reading and writing in general" which supports to his desire to major in the sciences at college.
He chose this class because he feels it will be a different experience from a standard english class. Ever since elementary school it's always been the same standard write a essay report class, but he believes Journalism will be different.
Enrik looks forward to how this class will present him with a different style of learning to furthering his writing level, by "incorporating many different skills that might become beneficial in life" that will prepare him for college.
Enrik Pretashi, Author
May 22, 2019

Cosmic Tingles ASMR

(Story/Media)

Apr 26, 2019

FDA's Mango JUUL Ban Fails America's Youth

(Story)

Mar 31, 2019

Free College? Debt for All

(Media)

Mar 15, 2019

Nature vs. Human Order

(Story/Media)

Mar 05, 2019

Board of Education Rolls Out New Graduation Requirements for Incoming Freshman

(Story)

Nov 03, 2017

Hall is Kicking It

(Media)