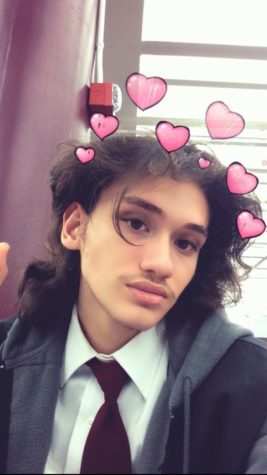 Lucas Diaz is a 17-year-old senior at William H. Hall High School. Lucas is taking journalism because he enjoys reading and wants to graduate from high school early. He is determined to make it through the course, stating, "If I can get this English credit early, I can take an Emergency Medical Service class and focus primarily on that. That way, I can continue my studies as well as get informed on the medical field." He has not previously written in a newspaper before, but in this class, he's looking forward to doing something new and writing in the Hall Record.
He isn't really interested in the news except for new discoveries when it comes to medicine. He brings a special set of skills when it comes to this class; he is smart, he's a fast thinker, and he tends to think outside of the box.
When he graduates from high school he intends to take a nursing course from American Institute so that he can get a certification to be a nurse while going to a community college. He explains, "After I get a certification and am done with my 2 years of community college, I plan to go to UCONN to further continue to get an education."
Lucas wants to move to L.A after he becomes a registered nurse. He's had a rough childhood but instead of letting that negatively affect him, he has decided to fix his grades, and has made up his mind that he's going to work as hard as he can so he can get into UCONN and fulfill his dreams of going into the medical field.
Lucas Diaz, Writer
Jan 10, 2019

Story Of The Future

(Story)

Dec 08, 2018

Is Ned Lamont Dan Malloy 2.0?

(Story)

Nov 21, 2018

Congress Battle Royal

(Story)

Oct 26, 2018

Does the innocent-until-proven-guilty precedent still uphold in America?

(Story)

Oct 05, 2018

Entering the Workforce After High School

(Story)

Sep 24, 2018