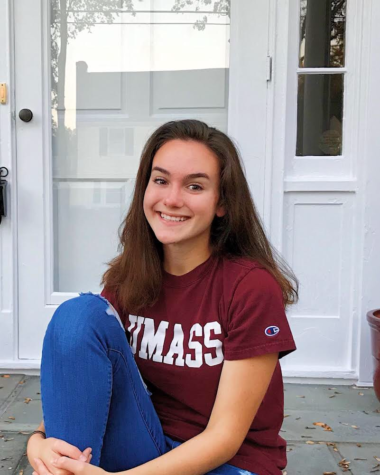 Sinead Marie is a 17-year-old senior at Hall High School. Sinead was born in Pittsburgh, PA before moving to Minnesota, Arizona, and finally settling in West Hartford, CT in 2008. She is the youngest of three children in her family, including both an older brother and sister.
Sinead is an enthusiastic and dedicated student who is involved in many different clubs and activities that Hall High School has to offer. Starting her field hockey career at the age of 10, Sinead has been playing varsity field hockey since her sophomore year. "Field hockey makes me feel included and very happy because of its atmosphere," she says. She also is involved with the lacrosse team because she enjoys playing on a team with fellow classmates and friends. Sinead plans to get scouted for field hockey in New England for college, and her future career plans consist of her graduating in nursing. In her free time, Sinead loves to listen to music, write creatively, and she admires writing in her alone time.
Sinead feels she express herself in writing better than she can in words. She has good writing skills, and although she has never written for a newspaper before, she is interested in news and hopes to add to the newspaper with her love and ability to write. Sinead looks forward to this year in journalism and even she says, " I would describe myself as someone who is approachable and I think people know how I love to write." Sinead decided to take this class to further enhance her writing skills and because she loves Ms. Fransen. 
Sinead Marie, Author
Jan 10, 2019

Brett Kavanaugh and the Accusations

(Story)

Dec 08, 2018

The Abortion Debate

(Story)

Oct 26, 2018

A Year in Review: Blue Reign's Double Standard

(Story)

Oct 05, 2018

The Gap Year Option

(Story/Media)

Sep 25, 2018

"Eyes On Our Phones"

(Story)