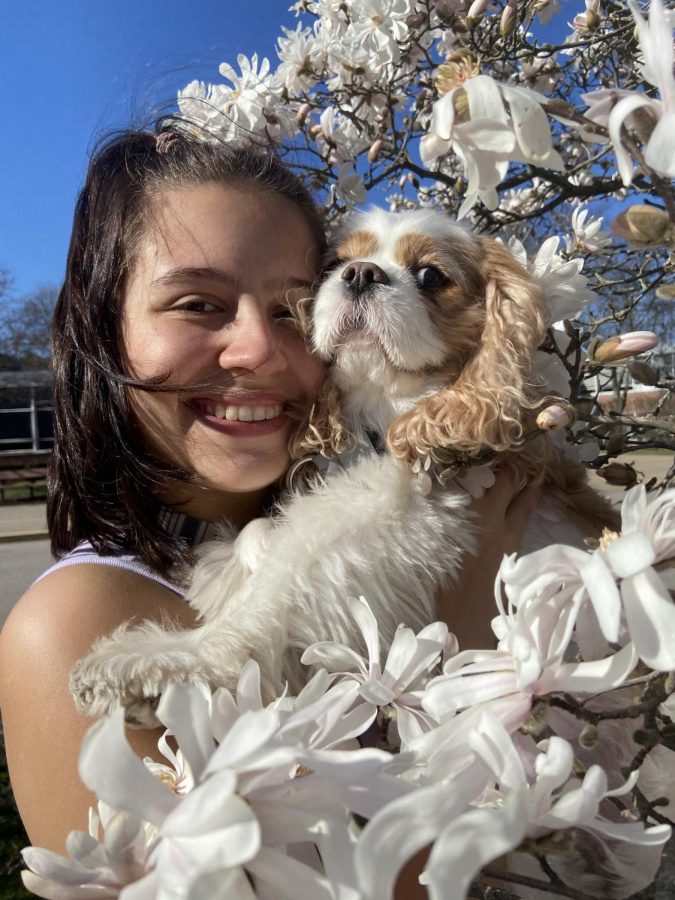 This interview delves into the life of Nicole Glisson. This is a complex life filled with crocheting, STEM classes, and embracing your femininity. And at the center of it stands a true individual who never fails to care for others.
Q: Where is your happy place?
A: It's a place on the Farmington River. That's my current happy place, but in general, it's always somewhere outside, probably by a stream or river that I can swim in, or out in a field where I'm by myself laying in the sun…. just somewhere I can feel connected to nature. 
Q: Tell me about something outside of school that really excites you?
A: I really enjoying crocheting. It started with bathing suits, but now that it's Fall I'm going to be experimenting with bucket hats because they're starting to get trendy. Previously, I had viewed myself as, like, the least creative person. But I've really expanded my interests to other artsy hobbies such as drawing and I want to learn more like sewing my own clothes.
I'm in the midst of starting a small business where I donate about 75% of proceeds to charity. I'll have the website set up so at checkout you can choose from 4 different charities to donate to; charities that I have researched and are important to me.
Q: What were you able to get out of your high school experience?
A: High school has been a big part of forming who I am as a person. I realized that I am very interested in STEM and just despise English and History classes. In addition to STEM, I became very interested in Chinese and Sign Language, and am planning to study both further and use that when I become a doctor to make it easier for the patients who use those as their first language.
I experimented with cross country and track. Junior year was when I figured out I like swimming, something I never thought I'd try.  I picked up dancing again, which had been an important part of my life up until the 7th grade. I am now a part of Jazz Dancers for the Pops 'n Jazz production. That style of dancing is somewhat provocative, so it really requires a lot of confidence to perform in front of others, but it's been a big helper to increasing my confidence. I'm at a place where I don't really care what people think of me anymore.
Q: Is there any part of your childhood self that you'd never want to lose or are desperately trying to?
A: When I was little I went through this phase where I felt the need to suppress my femininity, like saying my favorite color was blue instead of pink, or not wearing dresses or skirts. I also felt really ashamed for not playing any sports. Like, I did ballet, but I just didn't want to deal with anything that was girly because… well, because boys would make fun of you for it really.
It wasn't until the end of Junior year when I was finally able to release that part of me and embrace my femininity.
Q: What is your dream?
A: My dream is to become a doctor, specifically an OBGYN. I feel compelled to do so because the pain and symptoms of so many women are not taken as seriously as those of men. My goal is to be the trusted adult that young women need, especially those deprived of the proper sex education needed to fully understand their bodies. I feel a bit apprehensive that my dream also involves dancing and becoming a Rockette. However, ultimately, I have trust in myself and believe that everything will fall into place.
Nicole Glisson, Editor
Nov 06, 2020

Behind Closed Doors

(Story/Media)