An Open Campus?
December 19, 2017
Should students be allowed to leave campus during free periods? This question has turned into a debate which has gone back and forth between students and staff for years. Vastly different policies across the country makes tackling this argument a difficult task. Currently at Hall, you're not allowed to leave the building simply until 2:15 regardless of your age.
The main argument presented by some of the students of Hall is that as you age you should be given more responsibility. At Middlebury Union High School in Vermont  students are allowed to leave campus during free periods their Junior and Senior years. This allows them to utilize their town and go out and buy lunch or go home and take a nap. This can greatly improve productivity and general happiness at school.  
It appears that Hall students are overwhelmingly for a open campus. In a random poll surveying 25 students in the library 24 of the 25 said they would prefer if upperclassmen could leave campus. One student said "It's frustrating to have a free period and have to stay at school, when there are other things you could be getting done elsewhere." One student suggested allowing only seniors with a signed permission slip to be able to leave campus. "I feel like if we had seniors get signed permissions slips, it would be a compromise and give students something to look forward to."
SA President Chase Jeter stated that as much as he would love an open campus he understands why it's not practical. "I really want an open campus, however there are too many liability issues." He stated that the school is still responsible for students even off campus. It seems that teachers and staff agree with that, after interviewing one of the members of the security staff he stated that around thirty years ago the school tried an open campus. However, there were a couple of accidents that made the school district liable. Then they decided it was safer to just keep campus closed.                         
While there are liability issues students feel that the school isn't trying to meet in the middle. One student cited the recent ban on Uber eats. "There really isn't any way to get decent food on campus now." Students are hoping that the school will compromise.
However, what appears to be the biggest problem with the campus policy is inconsistency. The current rules don't appear to be strictly enforced. When popular fast food joint Moes was opened in Bishops Corner, dozens of students were leaving school and returning with bags of food from Moes. The school didn't appear to even notice they were leaving. This is problematic because if some students are able to leave without getting caught in such great numbers then why not just make it allowed for certain groups. If not, the grounds should be further patrolled so that other students aren't tempted to break the school rules with little risk. The current policy receives little respect and enforcement.
There's a clear split between students and staff on opinions of the campus policy. Both have valid reasons and ideals. However, whichever way the policy goes hopefully it will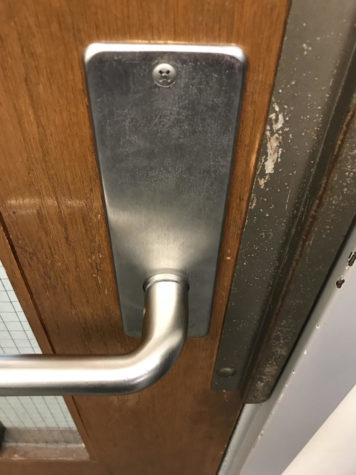 be given a definitive direction with more enforcement so that there is less confusion and less detentions.