Hall High Soccer
         Between November 8 and 14, both of the Hall Soccer teams lost in the playoffs. The girls lost 3-1 to Danbury in the first round. The boys made it to the quarterfinals where they tied Farmington 1-1 in regulation, but lost in a heartbreaker, 5-4 in a shootout.
         The men did not lose up to that point, ending off the regular season 12-0-4,  making them the second seed. According to team captain, Toby Ruffo, they had hopes for another championship early in the season when they "started to win games fairly comfortably." The girls had an up and down season going 7-4-6, but still making the playoffs. When asked if she thought her team had a chance at winning the championship, Captain of the girls team, Nicole Deslauriers, elected not to comment.
          When asked about the team's strengths, Deslauriers said, "Everyone plays their own important role on the team, we can't be successful without all the members on the team." When asked the same question, Tobias Ruffo, captain of the boys team, had a similar answer, "We all are pieces of the puzzle, we all fit and work together perfectly."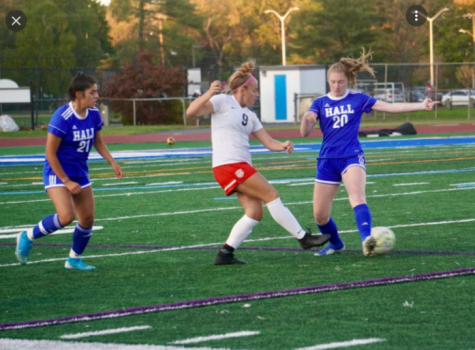 Captain Deslauriers made it very clear how important preparation has been for their success, "I prepare by getting enough sleep the night before, by drinking a lot of water throughout the day and warming up well". Similarly Ruffo said, "Drinking and eating a lot of healthy food and water, as well as Getting a lot of sleep the night before are crucial terms of my potential performance."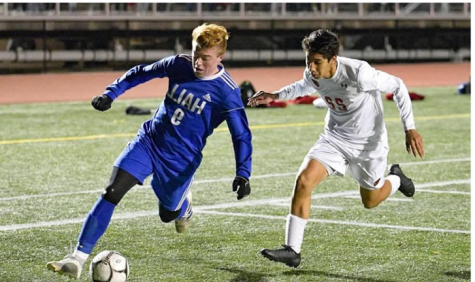 Even after losing to Farmington, future captain , All American Lucas Almaida from the boys team spoke very highly of the future of this program. "We have a talented young core of players that I think will be best able to step up. It's hard losing these seniors but I think we will be able to step up and get Hall another state ring".
           Hall has had a very successful history in soccer, winning a state championship 2 years ago. There is a lot of pressure to build up the legacy but the team feel confident they will be right back at it next year on their way to another state championship.