Hot Fun Summer Ideas!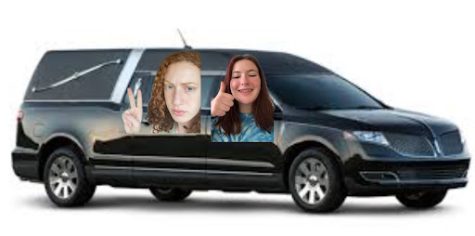 Here at "Hall Lowlights," we're all about summer. But of course, we know that people can have a hard time thinking of things to do. We've decided that we're willing to go the extra mile to make sure that YOU can have as fun of a summer as your heart desires. Our expert trend predictors have gathered up some ideas for you to make the most of your summer and be IN while doing it. 
This year, working is IN. One great way to spice up your summer and earn a little extra spending money is to become a hearse driver. What screams fun in the sun like dressing in all black, attending funerals, and shepherding grieving families all over town? Plus, you'll get in great shape from hauling all those coffins around. #bodgoalsaf! Also, you and all your friends can work together. Everybody knows that the perfect friend group has a gravedigger, an embalmer, a priest, and a hearse driver. There's truly no better way to make the most out of summer 2022!
When I think summer, I think hot. I think sweaty. I think sunburn. And there is nothing more hot, sweaty, and sunburn than the Hall Cross Country team. Cross country is IN, soccer is OUT (just ask half the girls on the team). Who wouldn't want to come to summer practices at 7 in the morning? You can run around MDC Reservoir #6 while a woman in her sixties who is so much more in shape than you are will bike next to you and tell you to "really push it up that hill!" And the tan lines are to die for. Shorts and tank top tans are the most IN they've ever been. So basically, if you want to have fun in the sun, you better get ready to run!
If you're looking to have a hot girl summer, you came to the wrong place. Hot girl summer is OUT. We're all about hunter-gatherer summer now. Go back to your roots by searching for food, laying traps, and hunting for your next meals with spears and hand-carved axes. Fashion, fab, fun? No! Fossilization, farming, and foraging are all the rage. And if you want to get into a hoe (like the tool) phase, you can connect with other like-minded primates on Huntr and have the neolithic summer fling we know you've always wanted. Plus, the furs and pelts of your catches are the best new accessory. Can't wait to see you all in Neanderthal chic this HGS!
We've got a new trend coming in! I heard through the grapevine that snappy comebacks are IN. The more likely that a third-grader would say it, the better. 
When someone just won't stop bothering you? "Make like a tree, and leave."  
Someone's being annoying? "I had a nightmare. I dreamed I was you." 
They just keep talking? "Maybe you should use glue stick instead of Chapstick." 
This trend will have you feeling good, sounding better, and LIVING your most confident life.
Don't worry! The trendiest trends of the summer aren't limited to just these!  We know that you'll be a trendsetter and a trailblazer wherever you go and in whatever you do. Have a great summer, and see you next fall!