Senioritis: The Silent Killer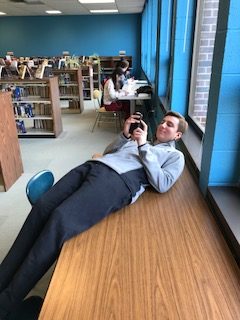 Hang on for a minute...we're trying to find some more stories you might like.
This is an article for people, by people with senioritis.  Don't believe us? If you think that we gave 100% effort for this paper, you're wrong. We didn't even use spel cheque.
For years, senioritis has affected hundreds of thousands of students. The question that remains unanswered however was what exactly is this phenomenon?
Urban Dictionary defines senioritis as a "noun. A crippling disease that strikes high school seniors. Symptoms include: laziness, over excessive wearing of track pants, old athletic shirts, sweatpants, and sweatshirts. Also features a lack of studying, repeated absences and a generally dismissive attitude. The only known cure is a phenomenon known as graduation. "
One of our own writers has been plagued with this catastrophic disease. Staff writer Isabelle Amato has a total of 71 (and counting) attendance absences for individual classes – and this is before even the end of the first semester. We predict that this number will continue to exponentially increase within the next semester.
After 12 absences per class, a student will lose credit for that course. They can chose to go in front of a board to find a compromise.
She is not the only one affected. In fact, this is such a common occurrence that there it is a senior superlative at Hall High School. Some may say this disease is even genetic as we see in the Henderson family. Emma, our projected 2018 winner, was preceded by her brother, Ian Henderson who received this award in 2015.
To find more answers we took to the cafeteria for some student input. At first glance we see tables full of underclassman with papers of homework spread out and a few scattered tables of seniors with empty tables except for a few empty plates and cell phones.
Max Drazen is a senior who committed to Middlebury in June to play soccer. When asked about his senior work he claimed, "I do it…but the effort level is minimal."
So how do we avoid becoming contagious and spreading the virus? It may be too late for some, as we find senior Alaysia Hamilton dressed in a complete groutfit, an outfit consisting of only grey clothes, with sweatpants. It took her some time to think of a solution before she said, "I remind myself that I have to send my transcript at the end of the year."
However, this is easier said than done. Adam AbuRabia shed some light onto our predicament showing us the severity of senioritis: "It's kind of like Hepatitis," said Adam. "You just can't get rid of it."
For some, however, this is seen as a positive effect. Hall's Student Association President Chase Jeter was found in the library Collaboration Station, hardly collaborating at all. In fact, it was a room full of seniors sitting with blank homework out and cell phones in hand. Could this be a sign of senioritis claiming more victims?
Jeter says, "In some terms it's deserved since we've put in a lot of work." The slacking off is merely a side effect of years of studying, testing and paper writing.
So, maybe everyone suffers from their own form of "senioritis" once in awhile. After all, it is impossible to push yourself academically for seven hours a day, 182 days a year for four years.
Terry Marselle seems to have a plethora of experience with seniors in his classroom. Thus he can relate to them with his own strand of "senioritis."
Marselle himself said, "I slack off after a certain milestone is met." Instead of college acceptance letters, it is the AP Exam which provokes his reaction. "Once it is finito completo my own intensity decreases," he admited.
Yet what we see in the classroom seems to extend beyond a change of intensity. It is a much more severe and drastic lack of motivation and effort, a decreased attention span and a checked out personality.
"As a teacher, it's like sweeping the sunshine off the roof, it's like pushing the ocean off the beach," complained Mr. Marselle. "It's a losing battle."
The two major things that senioritis impacts are grades and attendance. Usually these come about after the first semester or once the student has gotten into college.
Grades take a significant hit due to senioritis. Once students have applied and heard back from all of their colleges, they feel as if grades no longer matter. As a result, an honors student's A's and B's turn into C's and D's.  However, according to Hall Guidance Counselor Mrs. Olsen, grades for a student who has been admitted into college still matter, in fact, they could be crucial.
"Colleges see your second semester grades. So if you're portraying yourself as an A student, and all of the sudden they are seeing second semester C's, D's, F's, they could rescind their acceptance."
How often does this actually happen though?  "Very rarely." What ends up happening is that students will have a talk with a counselor like Mrs. Olsen, and realize that they must get back on track.
"Typically, it's not something that stays… At the end of the second semester, a lot of students bring [their grades] up."
Attendance is something that colleges might not take note of (unless it gets to the point where a student is no longer eligible to graduate), and something that still affects seniors just as much as anything else.
"In the second semester, I definitely see a decline in attendance for seniors… usually it's students coming in late," said attendance officer Ms. Lawton.
All in all, senioritis is the affliction of students in their final year of high school or college, which is characterized by decreased motivation or performance. However, this can be a good thing, reducing stress and pressure that students feel as they enter the next part of their life.
One might argue that these are only examples from within Hall, but in reality, Hall may have a smaller case of senioritis than other schools.
Hannah Gailey, a 2017 graduate from Cheshire Academy, said that senioritis at her school "was worse than people in other schools because [their] exams did not mean anything." That may feel like the case to her, but in reality, public school senioritis is bad, too, with most students not having to take finals as long as they have a decent grade in that given class. But who cares about senioritis? Well, you have to.
Senioritis could have a long lasting effect and these study habits will carry on. Even if you have gotten into college despite your poor grades, those poor grades do come back to bite you. There are numerous instances of students wanting to transfer from one college to another if they aren't enjoying their current situations.
Susan, a mother of two Hall High graduates, has dealt with a child who was unable to transfer because of their grades: "After his freshman year of college, he wanted to transfer… but couldn't because his high school GPA was too low, mostly because of his second semester grades from senior year." This is a good lesson for current seniors to learn.
If a student gets a terrible case of senioritis, they will basically be going five straight months, or eight months if you include summer, of making minimal to no effort in school. This could carry into college, or worse a real world job, where you have to make a legitimate effort to succeed.
Because of this information, a simple lesson can be learned. Senioritis isn't necessarily good, but contained senioritis is. Set a goal for yourself to maintain decent grades: if you typically get straight A's and a B, aim for straight B's. Your effort and stress level can decrease, but you will still be putting in effort in your classes, so won't fall into bad habits for the future.
To all of our senior friends: enjoy second semester; but don't enjoy it too much.