[caption id="attachment_6853" align="alignnone" width="246"]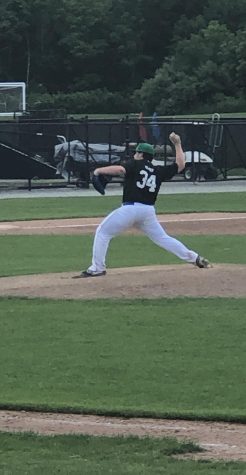 Brandon Wolmer
Brandon pitching at a summer baseball tournament[/caption]
Brandon Wolmer was born on June, 2002 in West Hartford Connecticut. He is one in a family of five. Of which belongs to his Mother, Father, older brother, and of course, his dog Happy. Ever since he was just a young boy, his life has revolved around sports, starting where many sports legends do; the local Tee Ball League. 
This passion never slowed down, endlessly adding to his mental dictionary of American sports leagues. To this very day, his extensive, and some might even say obsessive, knowledge of baseball and football stats ranging from the legends who made the games up to the present day can be seen or discussed at the drop of a hat. Naturally, he was inspired by some of the greatest players to grace their respective fields.
One of the idols pushing him forwards is the great David Ortiz. When asked about why Ortiz in particular, he says "I look up his style of play, and find myself following many of his idiosyncrasies." Entering journalism class he found himself with one clear option; Cover Hall's sports to the finest degree. Sports news, after all, is where he gets his legendary library of knowledge.
Brandon Wolmer
Mar 06, 2020

A Baseball Win With a Camera and a Garbage Can

(Story)

Feb 20, 2020