Hall Boys Cross Country Team Wins First State Championship
November 1st, Hall Boys Cross Country Team Wins their first ever Cross Country State Championship at Wickham Park, through a great team performance and an individual performance from Walker Beverly.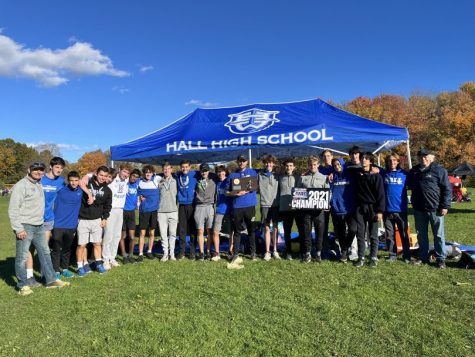 As stated earlier this was Hall's first ever cross country state championship, and when questioning one of Hall's cross country team coaches what it means to have finally conquered such a feat, Coach Micheal Lage replied with "It means a lot actually… the track teams who have a 4-5 year expectation/streak of winning state championships. So the expectations are set pretty high there, and for cross country we have come second a number of times. So there is a big appreciation when you first get over that hump and win a state championship." 
Afterwards, we talked with Hall's top individual performer, Walker Beverly on why this state championship is so important to the hall program. He went on to state "This win is so important to us because we've come up short so many times. Many great runners have come through hall as duos and trios at the state cross XC meet. You hear all these names like Ari Klau, Everett Hackett, Trey Courmier. But even they didn't find a win at the meet. So to come away with a win with this group of guys was special"
Although this is the first win for the Hall cross country team, the Hall Track and Field team is a powerhouse.  Hall is a powerhouse team in the state for track and field,  winning the last 8 available state championships.  There are many top tier athletes that come from the hall track team.  "People are not going to want to win or compete at the highest level of the team if it is not a good place to be after school." stated Walker. They have depth on the team, meaning that they have seven quality guys they can put on the line who will make an impact and if they all have a good race could honestly accomplish anything. The Cross Country team is getting better by the year, the high competition on the team drives people to do better than before and produces higher levels of athletes for hall.