Cultural Features Edition 2: Greek Kourabiedes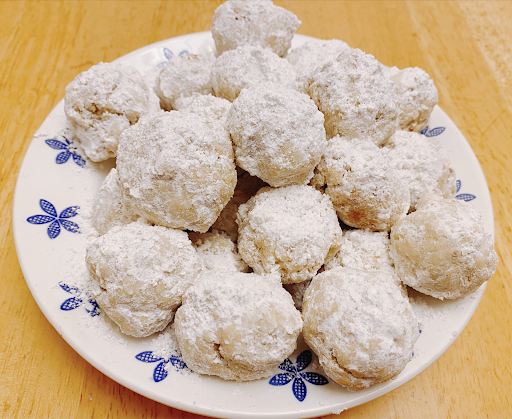 Emma Kingwell, Assistant Editor-in-Chief of Hall Highlights
December 15, 2021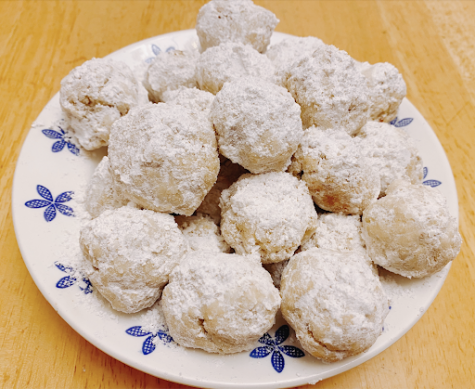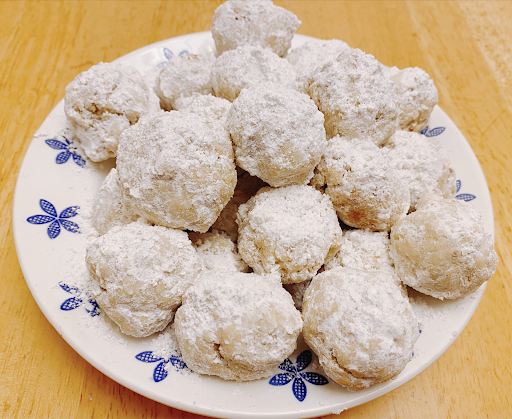 Cute ball-shaped cookies which look dusted in fluffy snow signal that Christmas is coming. We all know what the cookie looks like, but do you know what it is called? These cookies are kourabiedes, which are a traditional Greek cookie.
Kourabiedes (kou-rah-bee-EH-thez), originated around the seventh century. Kourabiedes originated from the Turkish word "kurabiye," which means a sweet, buttery cookie. However, Greek kourabiedes are very distinct from Turkish kuriye. Greek kourabiedes resemble more of a shortbread containing nuts (walnuts or almonds), some brandy, vanilla, and sometimes rose water. In Greece, kourabiedes are also often served with coffee.
Originally, the cookies were flatter and served with goat's milk, and they were usually served during Christmas or during baptisms. It is a Christmas tradition in Greece for families to make the cookie together. Before serving, the cookies are dusted with powdered sugar to make them look snow-covered.
Zoe Papas ('22) kindly provided a family recipe for me to try out. Her family has long been eating these cookies. While their family recipe is secret, the recipe I provided below also worked well for me. This recipe makes about two dozen cookies.
Ingredients:
¾ cup walnuts or almonds

1 ½ cup all purpose flour

½ teaspoon baking powder

¼ teaspoon salt

½ cup unsalted butter (softened)

½ cup powdered sugar

1 large egg yolk

1 tablespoon milk

1 teaspoon vanilla extract or almond extract

1 tablespoons of rose water (optional)

¾ cup powdered sugar
Procedures:
Preheat

oven to 350 degrees F

Ground walnuts/almonds until fine

Mix flour, baking powder, salt, and nuts in a medium bowl

In another bowl, mix butter, ½ cup sugar, the egg yolk, brandy, vanilla/almond extract and beat until the mixture is fluffy

Stir in the flour mixture to create a crumbly dough and set aside for an hour

Line two baking sheets with parchment paper

Scoop out about 1-inch pieces of dough, roll it into a ball, and place on baking sheet

Bake for about 20 minutes until cookies are golden-colored

Slightly coat cookies with rose water

Put remaining powdered sugar in a bag and put 5 or 6 cookies in the bag at a time to shake and coat with sugar (repeat for all the cookies)

Enjoy!
*If you are allergic to nuts, you can omit them.
According to Zoe, she makes these cookies every Christmas as they are perfect for the holiday season (for all year round, as well). Even for someone like me, who is really quite bad at baking, these cookies are not too difficult to make. 
Although these cookies can now easily be found in stores, nothing beats the feeling and taste of homemade cookies, so give the recipe a try!