School Engagement Program Makes A Difference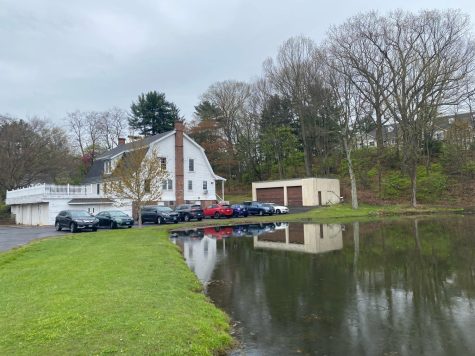 Staff of SEP (The School Engagement Program) opens a school for students who benefit from a smaller learning environment. For years now, the School Engagement Program, located in West Hartford, CT, has been taking students with engagement challenges from the two main high schools, Hall High School and Conard High School. In the School Engagement Program, staff focuses on students' academic and social skills while also providing therapeutic support. In SEP, there is a special education teacher and a registered clinician or social worker who is assigned to all students. There are also multiple Teachers Assistants who help students obtain, earn, and achieve their academic goals and successes. One goal for the program is to maintain a small group and more intimate school setting. 
In order to get other people's perspective on the program, a staff member was interviewed at Hall High School, a staff member at the School Engagement Program, and a student attending School Engagement Program. Regina Cravero, a special education teacher who works at SEP, was one of the few people interviewed. In the interview, the main focus was what perspective she would want to give society about SEP.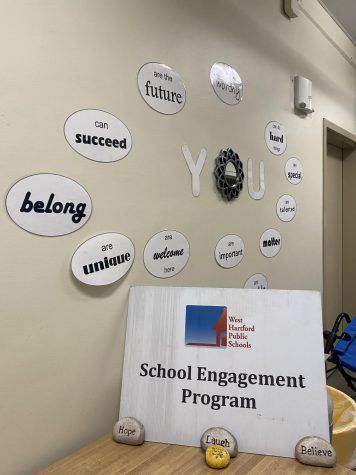 She stated, "Well, I think that our community, in the society of West Hartford Public Schools has a jewel and their openness to creating a program for students' needs was very insightful and I think we had a lot of success." 
Some think the school is for kids whom are troubled or judge students that participate in the school engagement program. Students that attend SEP find this offensive, seeing as though that's not the case at all, and that some students from Hall High and Conard High are simply "Judging a book by its cover," according to an anonymous student from Conard High School. 
The West Hartford Public Schools website, however, has an opinion and perspective of the complete opposite. The following quote was taken directly from the West Hartford Public Schools website: "This highly individualized program is located off site and provides a small, safe educational environment where students can learn at a comfortable pace with therapeutic support. The program works with each student, family, and team to identify barriers to school engagement and supports them in identifying and minimizing obstacles to reaching their full academic and social emotional potential." The school is created for many different reasons, it helps in the case of all circumstances, none of which have to do with any students being troubled. 
 While doing more research on the program, taking a good look at other programs, and comparing them, there were different lists of reasons as to why school engagement programs, similar to the one in West Hartford, exist in other districts. In the Yale School of Medicine in New Haven, CT, there is a school called Cedarhurst School, and their School Engagement Program is a branch of the school district. A direct quote from their website says, "Cedarhurst offers a School Engagement Program for students who are school avoidant, refuse to attend, or who for any reason have been away from school for a period of time and require a gradual re-entry." 
When comparing the different districts and rules of different school engagement programs, It was found that the only thing the programs have in common are the names, otherwise schedules and daily routines are very different. Cedarhurst's SEP starts from 3:00 PM to 5:30 PM on Monday through Thursday.  In contrast, the West Hartford program runs a little differently. 
A normal day at SEP starts off by signing in at 9:00 AM, doing school work and/or school activities throughout the day until 2:00 PM, when a student signs out and gets dismissed. In between those school hours, some students may attend their home schools. Two days of the week, there are different activities SEP does for at least 30 minutes. 
On Tuesdays, the students at SEP have community. Community is a time where important school topics are discussed and where students have a chance to ask questions and try to participate and respect each other. Community is an activity the entire district does, including Hall High School and Conard High School. 
On Fridays, the school clinician at SEP in West Hartford leads an activity called Social Group that focuses on learning valuable life lessons with discussions in a safe space without feeling judged and/or uncomfortable. One student reported that the activity "can be very therapeutic and helps many students." 
Additionally, a staff member explained that "social groups can be helpful to both staff and students." 
Teachers at the high schools appreciate the dedication SEP takes for the students that attend. Staff keeps up with students' academic skills by reaching out to teachers. They understand that things can be difficult, like communication, for some of the teachers at the Hall and Conard and also for the students. 
The Therapist and Clinician from Hall High School, Caitlin Merriman, got in contact via email and said: "My advice for the SEP staff would be to maintain consistent collaboration with all students' stakeholders (students' support teams, parents, teachers, etc.). When students begin to start to transition back at Hall, inform staff at Hall as to what strategies are helpful when working with the student so the student can be fully supported." 
Most students love the positive and supportive environment and often return to their district high school with a different attitude and view on school. Another student interviewed was asked how they felt before entering the School Engagement Program, and how they feel about it now. This is what they stated: "So, I was a bit conflicted because I think there was a part of me that saw that this program had a lot of pros to it but there was also doubt and worry that I would be mistreated again or treated in a bad way like I was dumb. I think there was another part of me that didn't want to admit that I needed help and so I had to take this opportunity and role with it because I had nothing to lose and everything to gain. My opinion now, It took a lot of time for me to say this and come to this conclusion or even admit to myself but SEP is one of the most important and helpful things in my life and it taught me a lesson about how when help is always there if you are willing to take it especially at SEP." In this quote, the student shows they have a big connection with some of the staff and appreciates the school being there. 
The School Engagement program has many successes when it comes to getting students to graduate with their class and helping motivate students to commit to school both socially and academically. No matter who gives what perspective and opinion on the program, the students who attend are self motivated, strong, passionate, and set achievable and awesome goals for themselves. The school has a big impact on students' lives and can in fact make a difference.
For more information, you can go on the district website, or https://www.whps.org/pupil-services/secondary-schools.