Class of '22 Out
Ashley Ho, Assistant Editor-in-Chief of HallRecord
May 31, 2022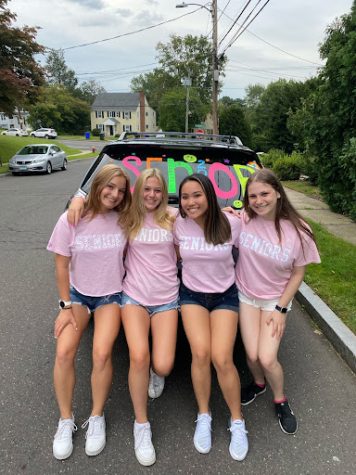 Our class has been through a rough four years. We started freshman year strong. Sophomore year came and just months before the end of the year, we switched to remote school. That definitely changed the pace of our learning. Then junior year came with an interesting system that required students to either be fully remote, hybrid, or eventually fully in-person. 
Coming back to in-person school for me this year was strange because of the fact that I was a fully remote student last year. I know, junior year online is gross, but I made the best of it. I slept in a little longer as I rolled out of bed and logged onto class right away; I didn't have to get ready, and I could eat whenever I wanted to. 
Though remote learning had some perks, I definitely missed being in a classroom. At home, I got distracted easily by the littlest things, whether it was someone talking in the room next to mine or scrolling on my phone during class (sorry teachers!).  Being in the classroom environment helped me focus more and I was just glad to be back in school.  
Thankfully, our senior year is back. I don't know about you, but I think it's safe to say that this past school year is a huge upgrade compared to last year.
Even with the masks on, that didn't stop us from trying to have a normal-ish year. And then the masks came off, creating an even more normal-ish school year. 
When you're a freshman and the seniors tell you that these four years fly by super fast, you don't believe it because you're so in the moment. Honestly, these last four years have been, albeit eventful, short-lived, too. Hang on to (almost) every moment because the years really do fly by. While the feeling is bittersweet to leave the school with the people I grew up with, I feel refreshed knowing that I am moving on to bigger and better plans. 
I'm incredibly grateful for all my teachers who guided me throughout my high school years and supported me on my endeavors with the whole college application process! 
Another big thank you to all my friends and family who have pushed me closer towards my dreams. As I prepare to put on my cap and gown, I am excited for what's to come next: UConn! #rollhuskies