The Pros and Cons of Participating in High School Sports
Each year, more than one thousand students at Hall High School participate in a sport, becoming part of a team that may improve their lives.  Though recently, more and more student-athletes have reported a lack of motivation for sports they once loved.  
With the wide variety of sports programs offered at Hall- basketball, baseball, soccer, hockey, field hockey, cheer, etc.- , students are given the chance to play their favorite childhood sport, or branch out and try new things.  
Joining a sports team gives students the opportunity to make new friends, meet new teachers and coaches, and become part of a community where they feel heard and understood.  Sally Kritzman, a junior on the girl's varsity soccer team, considers this to be a strength of the soccer program:  "I think a good strength is that it gets you involved with the students of the school so you can meet new people…".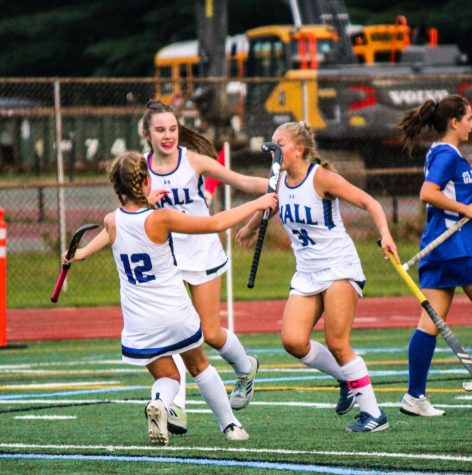 Additionally, through sports practices and events, students are given a place where they can show off their skills, and compete with the hopes of coming out on top.  Whether a student-athlete has been playing their sport for one year or ten, it is guaranteed to be fun for all who participate…right?  
While this may be the case for some, being a part of a team requires a substantial amount of discipline, collaboration, motivation, hard work, and support.  This can come from other players, coaches, and even parents.  Though when players feel they cannot find these aspects in their sports career, they become drained- physically and mentally.  
As a result of their exhaustion, many find themselves losing their love for the sport, eventually quitting.  According to Donna Merkel for the National Center of Biotechnology Information (NCBI), "Thirty percent of youth report negative actions of coaches and parents as their reason for quitting sport".  Understandably, coaches and parents love to see their team win, though when it gets too intense and student-athletes are surrounded by negative behavior and energy, it creates high levels of stress and anxiety.  These actions can affect relationships with coaches and parents.  
Marc Corey, the JV girl's soccer coach at Hall, spoke on his beliefs about interactions between coaches and players, undermining this information from the NCBI: "I think that it is really important to have a collaborative environment where players feel heard and that they are able to ask questions, so yes I believe [players feel comfortable asking questions] and I take a lot of pride in it".  
During his interview, Corey also mentioned that coaches may also be teachers, and what they experience during the school day can be a huge factor in how they treat their players and view certain athletes.  At the same time, coaches who are not teachers do not get to see their players in an educational environment and have no sense of what can be going on in a student's life.
Even if a student-athlete does not quit playing, experiencing a lack of these aspects can bleed into an individual's mental health positively and negatively.  Senior volleyball captain, Allison Chung, supports this argument based on instances she experienced with other players in her time playing volleyball, saying:  "I enjoy [volleyball] but it takes an emotional toll on you mentally.  I have lots of friends who quit because it takes such an emotional toll, especially on your self-esteem".  
Self-esteem plays a big role in sports.  When players feel that they are doing well, it pushes them to keep going, and strengthens their work ethic and commitment to the sport, along with the player's sense of self.  Dr. Steve Amaro of California highlights the many future perks of participating in a high school sports program, such as leadership, time management, empathy, compassion, teamwork, responsibility, etc.  These aspects of their high school sports career are guaranteed to carry into adulthood, shown through their work and family lives.  
But these elements can be deflated by unhealthy performance pressure by coaches, teams, and parents when they do not perform to the standard they are held to.  This can lead to harmful practices such as playing through an injury.  When Kritzman and Chung were asked what could be done to improve thier experience in their sports program, they both touched upon the topic of coaches, noting that coaches tend to express too much negativity and are ignorant towards some players, while attentive to others.  Additionally, the topic of playing time was a huge factor, with both players expressing their hesitation when bringing up concerns with their coach, as they believed this was something they could be punished for.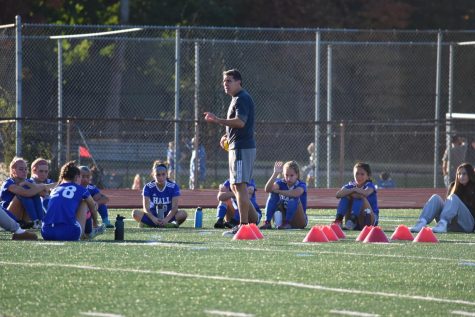 Although this may seem like a major problem, there are ways to combat the negative aspects that sports programs can bring.  According to Merkel: "Changing the future of youth sports for the better needs a collaborative effort between parents, coaches, teachers, health professionals, community leaders, and politicians".  Merkel believes that if changes are made in sports environments to shift the energy from negative to positive, the fun can be emphasized, and physical, psychological, and social development can be maximized.  
Changes can be made through the education of parents and players on expectations and sportsmanship the program desires.  School administration and athletics departments can stay up to date with national trends and research, and coaches themselves can help create a more positive environment and help establish a positive growth mindset through professional networks and organizations that work to establish positive and healthy values for youth sports.  
To learn more about what can be done to improve the moral character of high school sports programs and promote a positive youth sports environment, visit sites such as Let's Move!, the Institute for the Study of Youth Sports, and Character Counts.