Hall's Hallway Congestion
Congestion, tardies, and panic plague the hallways of Hall High School. Throughout the day many students find getting to class a challenge due to the unwarranted crowdedness of the hallways and stairwells. The administration's impractical attempts to address the issue will continue to result in unexcused tardies.
Crowded hallways haven't always been an epidemic here at Hall High school. First opening up in 1970 on the Laitinen property off of North Main street, Hall High was a brand-new school with supporting infrastructure to accommodate the increasing amount of students attending school. 
It featured "wide corridors, flexible space, and brilliant colors," said the CT Insider. The school also went under an extensive remodel in 1999 costing $12,000,000. The school population back in 1991 was 1090. Compare that to the current population which is 1514. That is just shy of a 40% increase in students. An increase in the student population presents many challenges, and hallway congestion has been at the forefront. The hallways during the passing times of the day find the most congestion. Students pack shoulder to shoulder to go to their own classes all across the school.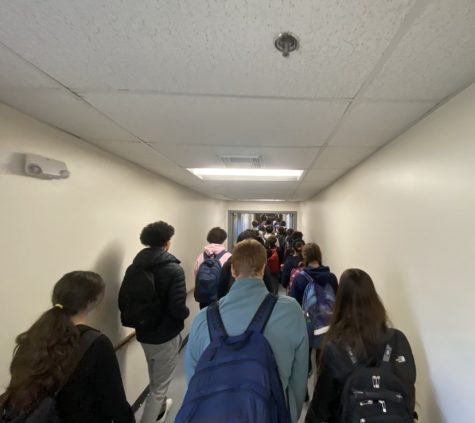 Senior at Hall High school Josh Dinowitz says " I find it hard to get from the lower levels or the portables to the upper floors during passing times."  highlighting one of the examples of congestion at the school. The stairways have just recently gone under changes to make foot traffic a little more efficient. During the pandemic, the stairwells were marked one-way during passing times. Creating a flow of traffic either up or down depending on the floor. This was a solution that was implemented that received positive feedback from students. 
"Last year during the pandemic, the school put up one-way signs on all the staircases that do help the flow of traffic. Compare that to what it was like freshmen year, it's much better" said Josh Dinowitz again. But different perspectives have had different opinions on the issue.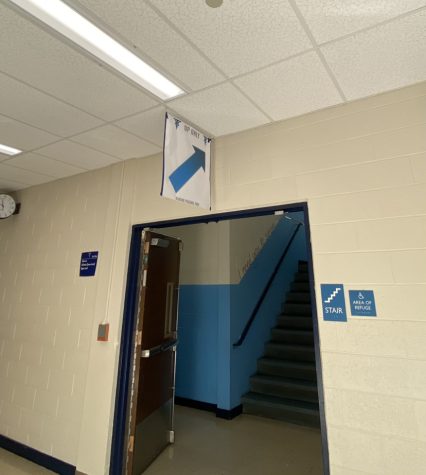 Sophomore Ben Puzzo said "It's always the worst in the stairwells and in the cafeteria. During the lunch waves, it's impossible to cross the cafe to get from one side to the other" when asked about where is the congestion worst at Hall High. The stairwells have been the main target of congestion and will continue to back long kids communicating from class to class. This will in turn keep the positive feedback loop of tardies between teachers and students.