A Year in Review: Blue Reign's Double Standard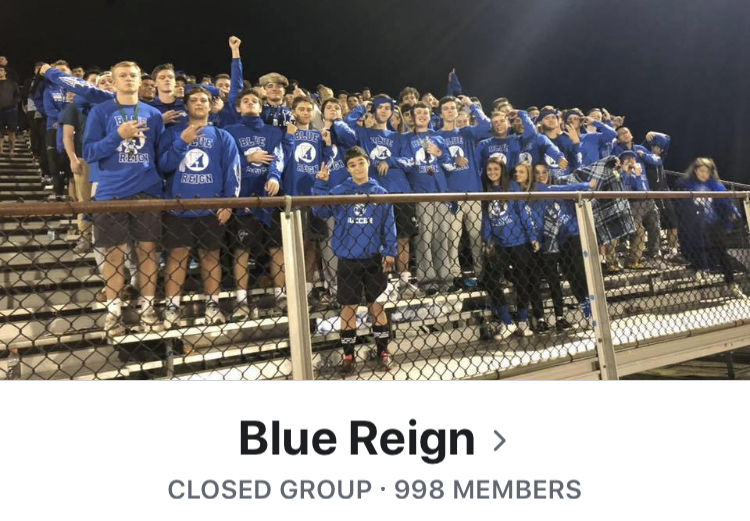 On November third of last year, the article, Blue Reign's Double Standard was published onto the Hall Record website. This article gave Hall's community insight on the controversial topic of not displaying support towards certain sports. As a follow-up and almost exactly one year later, has anything really changed?
The Blue Reign was originally the Rez, then briefly the Armory then to be changed to Blue Reign as of 2016. According to principal Dan Zittoun on an email sent out on October 30th, 2015, "The purpose of the The Armory is to encourage every Hall student to support Hall High School and all the students committed to making it a better school. Obviously, one of the major areas The Armory can support is athletics." Since it was created, there have been four different leaders each year that represent and post on behalf of the Blue Reign. The system in place that selects these leaders is a hand-me-down from past class leaders. So far, no female has ever been selected to be a Blue Reign leader.
Observing the posts by the Blue Reign leaders from the start of the fall season until October 17th, there have been six posts for boys teams including soccer and football and three for girls teams including soccer and field hockey. According to a member of the girl's soccer team who prefers to remain anonymous, "No enthusiasm in his [Andrew's] post.", regarding the girls soccer game that was posted, not even mentioning where the game was. With knowledge that this article would be written, leader Bryan Renker posted for the first time about girls sports. It was the longest and most enthusiastic post about the girls sports, soccer and volleyball.
At this point in time, we have reached out to all four Blue Reign Leaders; Andrew Skwiot, Sam Montoya, Bryan Renker, and Josh Ort. The questions that were asked were similar to the ones we asked various captains, just from their perspective. However, they failed to respond even after a reminder.
As far as the overall opinion of the Blue Reign, it is a positive atmosphere that encourages everyone to go and attend games for all sports. Or does it?
When asked the question to various captains of sports teams, do you feel like Blue Reign encourages your sport?, the responses varied from boys soccer and field hockey. Captain of boys soccer, Charlie Cubbage, responded, "The Blue Reign does encourage our sport, and all other sports at Hall. By informing people about our game and any other game they are inherently encouraging it."  But captain of Hall field hockey, Elizabeth Pillow disagrees, "I've heard a Blue Reign leader say that field hockey is not a sport, so I'm going to go with no. They've never watched a game so how can they judge if it's a sport or not?" While boys soccer has a current record of 12-1-1, and field hockey has a current record of 14-0-1, the question we should all be asking is, if their scores are so close, then how come Blue Reign only chooses to show up to the boys soccer games?  
The point isn't that Blue Reign has to show up to every single game, but they should at least make an attempt to encourage other students to attend various games/meets. As Charlie said, "The Blue Reign can't force anyone to go to a game". That is true, but Blue Reign as a whole should be putting in more effort to encourage all sports. When you take on that responsibility of being a Blue Reign leader and member, the main responsibility is to gather attention and support to cheer on all of the sports in the Hall community, right?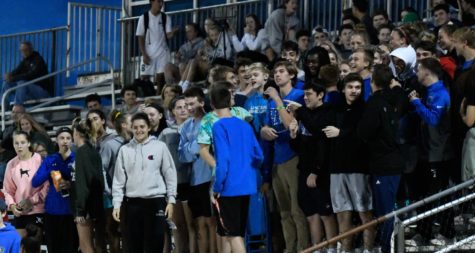 So what should the Blue Reign do to change? Along with asking the captains about their overall opinions and answers, we asked them what should [if anything] be changed about the Blue Reign. When we asked the question, Elizabeth Pillow responded by saying "Overall Blue Reign doesn't hype girls sports up enough, so for the future there has to be at least a female leader in there to represent and encourage people to go to girls games too!!" In addition Charlie also said, "I think posting more about sports that don't get enough recognition would be good. Overall The Blue Reign is a force for good in the community."
This is bigger than the Blue Reign. We all live in a society that makes us think they way we do about certain things, and this happens to be one of them. According to the NCAA, "Title IX requires the equal treatment of female and male student-athletes in the provisions of: (a) equipment and supplies; (b) scheduling of games and practice times", the fact that a rule like this has to be established speaks for itself. Some sports will just be underappreciated by the general public simply because they're "boring" to watch. However, the Blue Reign has the chance to be something better and show equal representation for all sports, not just those that are popular. It's important that all athletes at Hall get recognized for their credit and contribution to the Hall Athletic Community. The Blue Reign has the opportunity to be real leaders.