What Really Is "Black Friday"?
Hang on for a minute...we're trying to find some more stories you might like.
Lily
Have you ever thought about the true meaning of Black Friday? Many people are clueless to the history behind Black Friday. The term Black Friday first came into use on September 24, 1869 in Philadelphia, U.S.A., following a stock market crash. Jay Gould and Jim Fisk, two Wall Street Financiers, worked together to buy up as much as they could of the nation's gold, hoping to drive the price sky-high and sell it for astonishing profits. Their efforts ended up unravelling and sent many into bankruptcy. Now, the term has morphed into something different. If retail stores are doing well, they operate in the green. When stores are in the red, they aren't making enough profit therefore go bankrupt and close. It's now called Black Friday because on that Friday after Thanksgiving, the stores are in the black, which means they are making more than their usual earning.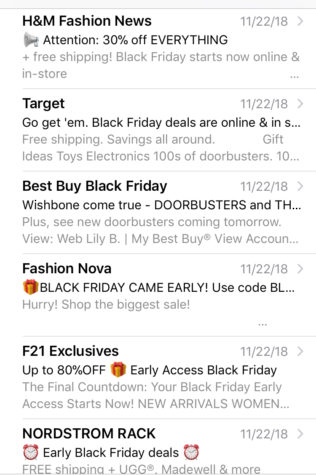 We interviewed a few people about Black Friday, and got a few different perspectives. Chris Printis told us that he did not go shopping because "Black Friday is a very commercial holiday that has nothing to do with Thanksgiving, and just preys on peoples impulses." Him, along with many others, seem to believe that Black Friday isn't all what it's cracked up to be. For example, in an article from CBS news, a shooting occurred in Toys "R" Us in California. Alejandro Moreno, 39, and Juan Meza, 28, shot each other due to their wives fighting over a toy. This goes to show how serious some people take this day.
When the holiday season rolls around, many people are focused on what to gift their loved ones. Did you know on Black Friday this year, the average adult was estimated to spend $483.18? Mrs. Dunbar in the counseling office explains why she went Black Friday shopping; "I went for the deals and early Christmas shopping." According to a history news source, there is an estimate that about 135.8 million Americans go Black friday shopping, with an addition of 183.8 million that plan to Cyber Monday shop. Nowadays, people prefer to shop online since it avoids all the hassle from going in person. Retailers are now catering to this demographic and provide a bunch of online deals on top of the in-store ones. Alex Ambroise, a senior here at Hall High School, says she gives gifts because "I want people to know I love them."
Black Friday is not the same day it was decades ago; it has morphed into a long weekend of sales created from retailers to get the public to spend money. (Black Friday, Small Business Saturday/Sunday, Cyber Monday.) Moreover, retailers know that everyone is trying to shop for the holidays, so they try to persuade you with as many deals possible.
Overall, based on people's opinions, it seems to be that the Black Friday concept is thought of as a stupid tradition, that doesn't have much to do with Thanksgiving. But since we live in such a developed, demanding country, many still take part in it. With technology becoming increasingly advanced, we will start to see more online sales than ever before, since people like to shop at the comfort of their own computer. It is an advantage for consumers, especially those looking for holiday gifts, and for retailers, since they persuade the consumers that they are getting the best deals.