The Coffee Controversy: Dunkin' vs Starbucks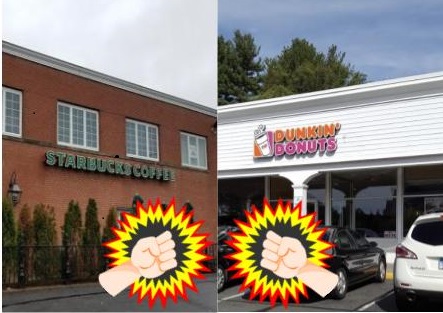 Grace Donovan, Nikki Herz, & Megan Polun, Staff Writer
March 5, 2019
High schoolers rely on morning coffee trips to get through the day, and the choice between Dunkin' and Starbucks is more competitive than ever before.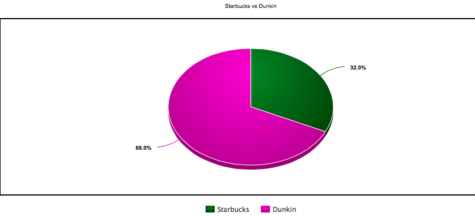 Picture this: you're driving down Albany Avenue on your way to school in the morning. You decide to stop for coffee. Where do you go? Dunkin' or Starbucks? Odds are, if you go to Hall High School, you're going to Dunkin'. According to a recent poll of students, 68% of respondents prefer Dunkin'. And an observation of the Hall library confirmed these results, with a 4:1 ratio of Dunkin' cups to Starbucks cups.
So what makes people choose Dunkin' over Starbucks? A series of interviews narrowed it down to these four factors: price to quantity ratio, quality of product, vibe, and service.
Price
We ordered a plain, medium iced coffee at both establishments. Dunkin' charged $2.68 for a 24-ounce cup. Starbucks charged $2.92 for a 16-ounce cup. Mathematically speaking, Dunkin' charges $0.11 per ounce for an iced coffee, while Starbucks charges $0.18 per ounce for the same order. As summarized by senior Devon Poduje, "Starbucks tastes better, but you get a smaller size and it's much more expensive." We also tested out the breakfast options. A bacon egg and cheese sandwich on a croissant costs $3.99 at Dunkin' and $4.75 at Starbucks. In short, Dunkin' is a better bang for your buck. But these price distinctions don't always deter customers.
Quality of Product
Rae Gutcheon, Hall senior and Starbucks customer says, "I'd rather pay more for better quality [stuff], than pay less for lower quality [stuff]." Starbucks may be more expensive, but for those who overlook the cost, they find the product well worth it. However, this opinion doesn't apply to everyone. "Starbucks food is good, it's just not worth the price," stated Hall senior Frankie Lynch. Aside from price, the service of the establishment plays a big role in potential customers' decisions.
Service
Often times, high school students order ahead on the Dunkin' or Starbucks apps, making for a quick pit stop on the way to school. Although there are no lines to wait in in person, the drinks are not always ready immediately. According to the Dunkin' app, the average expected wait time after ordering online in the morning is 5 minutes. At Starbucks, that time is 10-17 minutes. While these numbers are not accurate 100% of the time, they provide a general estimate, and the time difference is hard to ignore. Both establishments have employees who have been commended for their friendliness and diligence.
Vibe
In conversations about Dunkin' and Starbucks, the stereotypes of the customers that frequent these establishments were a hot topic. Miller Anderson, Villanova XC/Track commit, said he doesn't think he's Starbucks' target demographic. "Starbucks is all coffee for white girls," he claimed. Others have described Starbucks as coffee for the businessman, while Dunkin' is for the common man. Hall seniors Frankie Lynch and Devon Poduje seem to agree. "Dunkin's more chill… I could walk in in a groutfit [an all gray sweatsuit] and I feel like I wouldn't be judged," Frankie said. "But if I went to Starbucks and did that, I feel like I'd be a little bit judged." Devon agreed, stating that getting Starbucks is more of an experience one might share with their mother, while Dunkin' has a grab-and-go vibe.
Final Decision
Both Dunkin' and Starbucks have employed key strategies that have brought them to the front of the pack in the morning coffee and breakfast industry. Factoring in cost and the quality of the product and the service provided, they each have strengths that appeal to high school students. In general, to each his own, but it seems to be that Hall High school runs on Dunkin'.
Sorry, there are no polls available at the moment.