Girls Fall Sports Recap(2019)
When was the last time a girls sport at Hall did well? If you do not know the answer, you've been living under a rock. Blame it on us, the media, because you are not alone. Of the past 36 articles written for the Hall Record's sports column, only three articles about girls athletics or individuals have seen the printing press. As championship season comes to a close, it is important to recognize all Fall athletic teams for their efforts and accomplishments, whether that be runner up at New Englands or beating our cross town rivals at Conard.
Cross Country
Over the past three years Hall's Girls Cross Country team has built an unstoppable winning tradition. In the 2019 regular season they went undefeated, including sweeping Conard on their home course putting six runners in before Conards first had even finished.
During the postseason, the girls cross country team saw even more success. They won the CCC West and Division Championships, and soon after they went to win their first state title since 1987, claiming both the Class LL and State Open Championship titles. 
After the Class LL meet Lori Riley of the Hartford Courant stated "senior Jenna Zydanowicz, Hall's No. 1 runner, struggled to make it up the final hill [at the state meet] and ended up in 26th place but her team, led by sophomores Kate Sanderson (seventh) and Nora Holmes (ninth), won with 77 points, 20 points ahead of runner-up Trumbull." Winning a state title even without their number one runner at their best is a testament to Hall's running program. 
This level of depth, and ability to run as a team when it counts is the reason why they are successful. This is why they finished their season with a perfect dual meet record, and closed out the season with a second place finish at the New England Championship. 
Swim and Dive
As only a few girls remain swimming in states, the Hall Girls Swimming and Diving season slowly comes to an end. The Swim and Dive team had an impressive season, only losing one meet against Glastonbury and ending their regular season with a record of 9-1. The past few years the team has had an outstanding season, losing only a single meet each year. Two of the best swimmers the team has ever had, Maggie Mantz and Aislinn Mitchell, are graduating Hall this year, yet will continue to swim D1 in college. 
Maggie is extremely proud of the team's success, but more than anything, she is thankful she had the opportunity to lead such an enjoyable group of girls. Maggie tells us, "Our team had a very impressive record, we all have worked extremely well, but most importantly we had such a fun season and I am so happy I had the opportunity to be a role model to the team." While the Girls Swim and Dive team had an outstanding season, their team spirit never fails to shine through.
Field Hockey
Field hockey has a record of 15-1 and are CCC champions. They made it to states but lost which ended their season. One of the members on the Field Hockey team, Nicole Selig said, "our season has been going really well and we only have lost one game and this game didn't count for our conference." In their conference the team went undefeated and many students have not heard about it. It is a huge accomplishment to make it past the regular season, win CCCs, and make it to states, but the Hall community does not recognize them enough. The team has worked well together and have bonded throughout the season.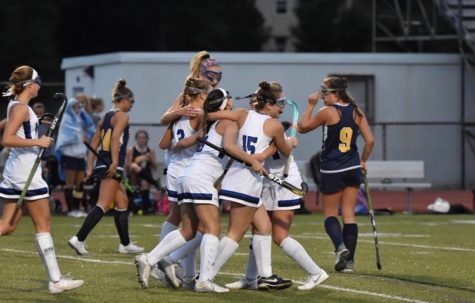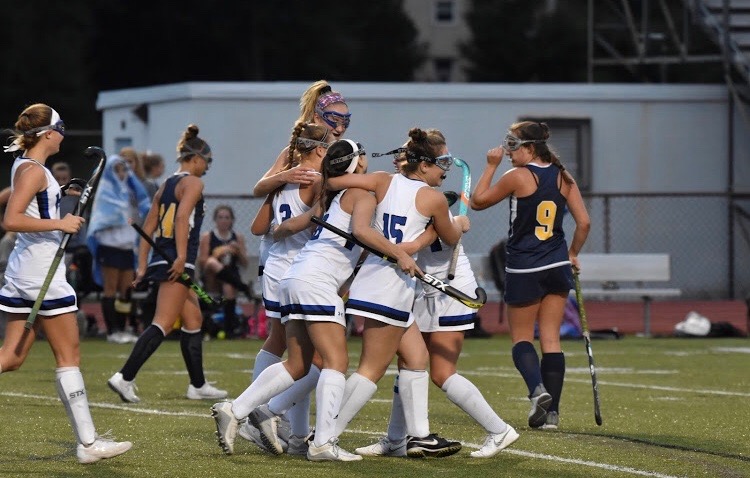 Soccer
The 2019 season for the Girls Soccer team was full of growth for the new teammates. They won eight games, lost six, and tied two games. In their game against Conard, Hall won, beating them 3-1. This win boosted moral for the team. Emily Cubbage, the team captain, had a commemorative season: "We had a lot of fun and the team is a great group of girls. This season was definitely my favorite season of soccer." Overall the Girls Soccer team did well. The team will graduate three seniors in 2020, but according to Cubbage, they are leaving behind a "strong team."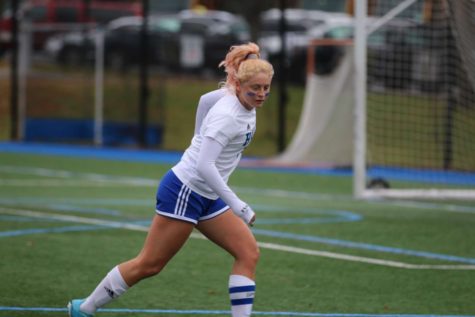 Volleyball
The Girls Volleyball season has just ended. They started the season off strong with a win against East Hartford, winning 3-1. Out of the 20 volleyball games played, the team won six games. They finished the season with a record of 6-14, and a strength rating of 5.7. In the Hall versus Conard game, Conard won 3-0. In the Northwest game however, the girls won 3-1. The 2019 team did not qualify for states and now ranks 90 in the state. Students are unsure how skilled next years crop of players will be, but with enough dedication the girls can pull through and repeat past successes. 
There is an overwhelming amount of success in Hall's female athletes, so why have you not heard of them until now? Start talking and posting everything you can about the achievements and success of our female athletes are accomplishing. While this is only the fourth article of the past 37 sports columns published about girls athletics, let it be the first of many to come in 2019/2020 school year.