Homecoming and Prom 101: Anything and Everything You Need to Know
Is Hoco a big nono? And what about Junior and Senior Prom? Prom and Homecoming have been age old traditions at Hall High School. But which truly lives up to the hype?
Throughout the year, three different school dances take place. Homecoming is the first event of the year and all grades are eligible to attend.
According to the Blog PromGirl, Homecoming is "the first big high school dance of the year is usually the homecoming dance. It typically takes place on the Friday evening of spirit week (aka, the time of the year when everyone celebrates school pride and wears their school colors)."
However, Junior Prom occurs in mid May and only juniors and their dates may attend whereas Senior Prom occurs the first weekend of June and only Seniors and their dates may attend. 
Homecoming occurs as a way to welcome students back to school each year. Typically, the dance follows spirit week and a Friday night football game. Prom, on the other hand, occurs as a way to close off the school year for Juniors and a way for the Senior class to say goodbye.
Dylan Kindle, Senior at Hall High School, explains that he will attend Prom "one because it's our last senior event that a lot of people are going to be at, and two because I really enjoyed it last year with everyone." 
In addition, for venues, Homecoming takes place in the Hall cafeteria every year whereas the Prom venues are always outside of school. 
The Junior Prom venue changes each year; during the 2018-2019 school year, it took place at Maneeley's Banquet Hall in South Windsor. However, Senior Prom happens at the Basketball Hall of Fame in Springfield, Massachusetts, every year.
Moreover, there is a $55 price difference between Prom and Homecoming. 
Mrs. Kim Mickus, a teacher who organizes Prom, states that, "The price of Prom remains constant each year." The consistent, price is $75 per ticket, regardless of the location of the dance. 
On the other hand, Homecoming's price fluctuates depending on the Student Government's budget and the add ons to the dance.
The location of Prom, the decorations, food, cost of the DJ, and other expenses are what is covered with the money spent on a ticket. 
Homecoming, however, varies in cost because it is organized by the Student Government. However, Senior and member of the Student Government, Ella Novitsky, states that "The students in student government have a large say but when it comes down to it, the teachers have to finalize the decision."
 Last year, the price of Homecoming was $10, and this year it was bumped up to $20 a ticket. The price increase did not impact ticket sales.
Ella elaborates on how Homecoming once again sold out, but, "The number of [available] tickets is [always] 400 [which is] because of fire hazards." 
 Student Government added a photo booth, snacks, drinks and decorations, along with a professional DJ for this year's event. 
The new additions, intended to give the dance a better environment, resulted in the rise of ticket prices.
At both Homecoming and Prom, one is advised to dress their very best, but the attire requirements for each event vary. 
At Homecoming, typically for girls, one would wear a short dress, not anything too fancy. People tend to spend less on Homecoming dresses than they do for Prom so any casual, short dress you find and feel comfortable in is perfect for the evening.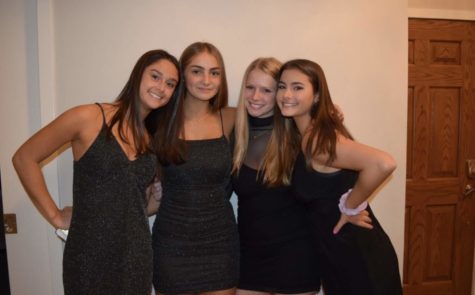 Boys usually do not rent a suit for this event and normally wear a button down shirt with tan; ties and blazers are optional.
Junior Prom, in regards to attire, tends to be the nicest of the three school sponsored dances. 
Jade Hunter, A senior at Hall High would agree as she has stated, "I enjoyed and felt that a Prom dress was more important. I feel you must pop out more for Prom, and Homecoming doesn't matter." 
At Junior Prom, the girls wear long dresses that are on the fancier side. Boys often will rent a suit. People in general spend more on Junior Prom as it is known to be more elegant.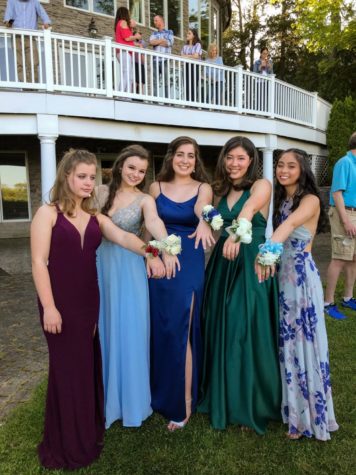 Senior Prom is more similar to Homecoming because most people wear short dresses.
At Senior Prom, considering it is at the end of the year, most girls tend to wear sundresses. Prices vary based on how nice of a sundress one is looking for.
Boys, once again, typically wear a button down, long sleeve shirt, khakis, and a blazer. Further, because of the hot weather, some boys choose to wear shorts. A tie is not required, making this outfit look more casual. Boys will sometimes join the summery theme as they wear more pastel colored pants. 
Prom is a major event in one's Junior and Senior year. Students typically stay the whole time for prom. It is also tradition to take pictures beforehand organize an exciting form of transportation such as a limousine or a bus. 
Popular locations for Prom pictures are often Elizabeth Park or local country clubs such as Wamponag and Tumblebrook. However, there are photographers present at Homecoming. 
Jade Hunter, also stated that "Prom flicks are more professional and a thing…We went to Elizabeth park for pictures for Prom but did nothing for Homecoming."
This year, Homecoming was from 7-10 while Prom, last year, was from 6-9. 
The attendance at dances decreased mainly because of overall costs and because they are no longer fun. 
Hunter shares her thoughts when she explains that "Prom is way overpriced, and should be $20 just like Homecoming." Some people would rather miss Homecoming instead of Prom, such as senior Dylan Kindle. 
Dylan explains himself, "I prefer Prom over Homecoming becasue of the fact that Prom is way more fun and has a lot more stuff to do." 
It is safe to say that the cost of the dances, along with the cost of the dresses and suits are a hard reason more people are not attending. 
The people interviewed conclusively decided that Prom is truly worth the hype when compared to its lesser companion, Homecoming.