Bishops Corner Target: Did it Hit the Bull's-Eye or Miss the Mark?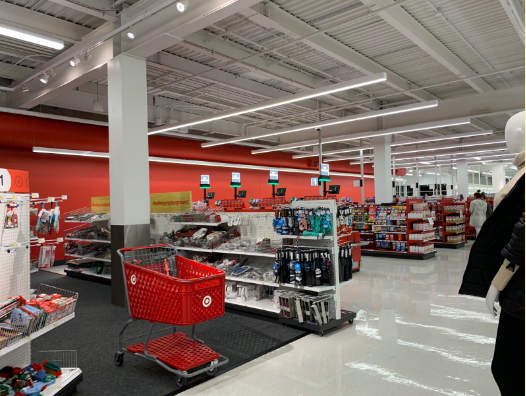 If I had to choose one place to shop for the rest of my life, I'd pick Target. Not only does it have everything, but it also cultivates a fun and welcoming environment. When I walk into a Target, I feel at home. In short, I'd call myself a little bit of a Target fanatic. 
So, when I heard they were opening a new Target in Bishop's Corner, which is super convenient for me, I was stoked. As you might imagine, I went almost immediately after it opened. To say the least, I have some thoughts. 
My first comment about Target is the most prominent one: space. As we found out before the store opening, this store is a small-format Target. That means that the Bishop's Corner store has about half the square footage of a regular Target, just like the one in New Britain. 
Obviously, the smaller size means that they carry fewer items. Another downside to its small size is it compresses the store, so everything is a little too close. But, the bright side is you don't have to walk very far to get anywhere. 
On the plus size, one thing I love about this Target is the self-checkout. It's easy to use, fun, and super beneficial. There's always a staff member watching over the station, so, if there are any issues, they're right there to come to the rescue. 
Also, it keeps lines shorter at the cashier checkouts while simultaneously giving employees more opportunities to help customers when they need it. It's always a blast to look at yourself and your friends in the security screen they have at every self-checkout booth, and there's never a downside to getting to scan your items with the exciting little scanning machine. 
In conclusion, I think that putting a Target in Bishop's Corner is one of the best things a company could do for West Hartford. I'm so happy to have such an amazing store so closeby. They have excellent customer service and an even better snack selection. Even though there might be a couple of minor issues, I'd still rate this Target a whopping 4.5 out of 5 bulls-eyes.