The Importance of Business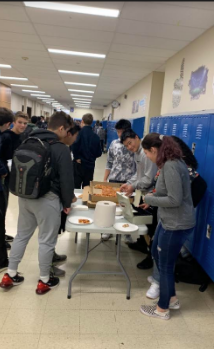 Have you enjoyed the aroma – or taste – of pizza in the gym lobby every Wednesday after school?  If so, thank Hall's Business Club, a chapter of DECA. The Distributive Education Clubs of America provide high schoolers with a plethora of events to participate in, relating to marketing, entrepreneurship, finance, communication, hospitality, and management. 
Carlie Dailey, the advisor, says that DECA, an "internationally recognized organization, offers students opportunities the typical business classes and clubs can't." Students across the United States get to collaborate and interact with each other, working on problems that directly apply to jobs in the real world. 
This year will be Hall's first time creating a DECA chapter, and they meet every Tuesday in room E123 to talk about a multitude of business-related topics, ranging from fundraisers, community events, the stock market, to pizza sales.  
The biggest goal of the Business Club, Dailey says, is to "provide more business opportunities for Hall students within the community and organizing and running events, whether it be for a non-profit organization or giving back to the community."  In November, for example, Hall's Business Club held Movember, where students grew a mustache and donated some money to help support men's health.
Besides pizza and facial hair, the Business Club plans on holding other fundraisers throughout the year to save money to support the events that the Business Club members will be participating in, including competing in state-wide and national competitions.
"Events may not be successful," Dailey says, but "no matter what happens financially, students will always be successful in going out and creating these experiences." The small events that the Business Club is holding are a magnet to failure, but these failures are what allow the students to learn from their mistakes and prepare themselves for larger projects. 
In the real world, any hands-on experience will be instrumental to success. The Business Club gives students a taste of what it will be like in the future when they have jobs and are working in various industries. There's a stereotype about business people, Dailey says, and a generalization that business classes are boring and unnecessary. But no matter what you do, business will always be related in some way.