Hall's Most Underrated Section of the Arts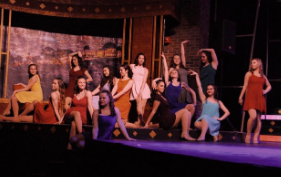 The arts remain the most under-recognized part of any high school setting (unless you are on Glee or High School Musical). At Hall, certain arts are publicized greatly. 
The theatre department, for example, puts on several yearly productions that bring in full audiences. The choirs perform Madrigals and other concerts, while the bands perform in community events throughout the year, in addition to Hall shows. 
Even with all of this, we are missing one key piece of the arts. What is that piece, you ask? Dance. The art of telling a story through movement. 
Dance is an essential part of most cultures, and many look up to successful dancers for inspiration. It's time, then, to introduce you to Hall's Jazz Dancers – the most underrated section of the high school's arts program.
A club started many years ago, Jazz Dancers is currently Hall's only opportunity for young dancers. This group has a steady membership of 10-15 students per year, with choreographer Tessa Grunwald from Miss Porter's School in charge. 
While membership is by audition only, this team showcases a wide range of dance backgrounds and specialties. This year's team consists of one freshman, two sophomores, two juniors, and five seniors. 
The main event that the Jazz Dancers participate in is Pops 'N Jazz, which is an opportunity for Hall's bands, choirs, orchestra, and dancers to show the community what they are capable of doing. Pops 'N Jazz displays a wide range of music, from classic jazz to pop, and there may even be some musical theater tunes included. 
Jazz Dancer Lauren Sussler '20 says, "The dancers are the best part of Pops 'N Jazz–people come to watch us dance!"
The Jazz Dancers usually perform in a handful of "dancer tunes" (songs with only dancing and no singing), a couple of song medleys, and a few "production numbers," where the whole cast is on stage at once. 
This year's Pops 'N Jazz show will run during the weekends of March 14 and 21, so come check out their hard work before they leave for overseas.
The Concert Jazz Band, Choraliers, and Jazz Dancers are traveling to Germany and Spain during April break. This trip allows Hall's artists to take their show on the road (literally), and see what it is like to be a professional musician or dancer on tour.