Is There Lead in Your Water?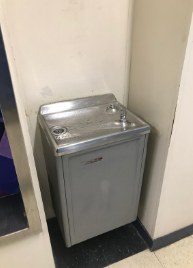 Sam Frank, Assistant Editor-in-Chief
December 17, 2019
In 2016, as Americans stood shocked by the public health crisis in Flint, Michigan, West Hartford Public Schools (WHPS) looked inward. Motivated by the lead detected in Flint and Newark, New Jersey, WHPS tested water fountains and kitchen faucets in all 17 schools across town. 
Though elementary schools are tested every two years as part of the licensing process for their before and after school daycare programs, this type of testing was unprecedented: "There is no history of this having happened in the past because there is no requirement to do this type of testing," Assistant Superintendent Andy Morrow told We-Ha.com in January 2017.
As the test results came back in January 2017, the school district notified parents via email that they had closed 60 water fountains in 7 schools.
One fountain at Hall High School, 13 at Bugbee Elementary School, 13 at Morley Elementary School, 10 at Aiken Elementary School, 2 at Conard High School, 22 at Wolcott Elementary School, and 2 at the former STRIVE (Success Through Responsibility, Initiative, Vision and Education) facility for students with significant behavioral and emotional disabilities tested above the Environmental Protection Agency's lead action level of 15 parts-per-billion (ppb). 
Assistant Superintendent Morrow asserted that lead levels below this concentration were acceptable. However, the lead action level only applies to water systems, not public buildings such as schools. The EPA has set its non-enforceable Maximum Contaminant Level Goal for lead at zero, "based on the best available science that shows there is no safe level of exposure to lead."
When asked, West Hartford's Director of Plant and Services Rob Palmer confirmed that some water fountains tested positive for lead, but below the EPA action level. "That is acceptable," Palmer maintained.
According to Palmer, the main culprit behind the water contamination is lead solder, a metal alloy used to permanently bind two metal pieces, such as pipes. Buildings constructed before 1986 are most likely to contain lead pipes, since Congress amended the Safe Drinking Water Act that year to ban the use of pipes, solder, or flux that contained more than 0.2% lead. 
The current Hall building – not including renovations or additions – was built in 1970. It is unclear how long lead has permeated the drinking water supply.  "If it's in the piping, it's been there since the building was constructed," Palmer acknowledged.
Age alone does not account for the lead contamination in West Hartford Schools. Even the nearly brand new Charter Oak Elementary School contained water fountains that tested positive for trace amounts of lead. These water fountains – whose lead levels were below 15 ppb – were not mentioned in statements to the Hartford Courant or We-Ha.com.
During testing, the town took a sampling of different models of water fountains instead of testing the water from each individual unit. Both newer and older models tested positive for lead, suggesting a problem in the plumbing in some schools. In other schools, such as Wolcott, samples taken from the end of the water line did not contain any lead, suggesting a problem with the fountains themselves instead of a building-wide concern.
Hall's piping varies in age across the school, as the building's original copper pipes eventually fail and are replaced, but water fountains were tested depending on their model, not their location. Still, Superintendent of Schools Tom Moore asserted at the time that "all water fountains that are currently in use at West Hartford Public Schools have been tested and are safe."
Once they received the test results, WHPS immediately removed the most contaminated fountains form service. In addition, WHPS initiated more detailed follow-up testing on those units. When talking to We-Ha.com, Morrow described one Wolcott water fountain, which initially contained 37 ppb of lead after being tested over the summer, when fountains are rarely used and the water sits stagnant in pipes – ideal conditions for contamination. Following two more rounds of testing, the level in this particular fountain fell to 16 ppb and then to zero.
This Wolcott fountain was an anomaly though and Superintendent Moore wrote that follow up testing "confirm[ed] many of the initial findings" in a letter emailed out to teachers in January 2017.   Since then, all of the affected water fountains have been replaced with newer models that contain lead filtration systems. 
Virginia Tech Professor Mark Edwards, who unearthed the lead crisis in Flint, told NBC News in 2016 that the risk of lead contamination in schools gets "worse with time, not better." As old pipes age and corrode, they release more toxins into the water. 
Palmer does not share the same concern:  "We don't think it is going to get worse, but we have to continue to be vigilant," he said. To that end, Palmer noted West Hartford's protocol is to replace failing copper pipes with plastic and any defunct water fountains with new, lead-filtering ones as preventative measures. 
Lead contamination in water is linked to a myriad of serious health concerns, according to the EPA. The toxin is particularly harmful for young children in whom it can cause behavior and learning problems, slowed growth, hearing problems, anemia, lower IQ, and hyperactivity. 
Low doses of lead that may be relatively harmless in adults can be serious in children. Additionally, lead can bioaccumulate in humans over time, and cause cardiovascular effects, decreased kidney function, and reproductive problems in adults. 
The Department of Plant and Facilities and the West Hartford Public Schools worked in conjunction with the Bloomfield-West Hartford Health District, who did not notice any concentrations of lead-poisoning symptoms that would indicate a potential health crisis. 
Even so, West Hartford Public Schools employees are reminded every year about water safety practices, including flushing water fountains. "Hopefully, between staff, teachers, and custodians, everything is being flushed adequately," said Palmer. He added that the kitchen staff "does a great job of flushing the lines on a daily basis."
In an email sent to all Hall teachers and staff this August, a week before the first day of school for students, Principal Zittoun reiterated procedures to "help eliminate the potential for residual lead in the drinking water at our facilities." 
These protocols included the instructions that teachers with water fountains inside their classrooms "run the water thirty seconds to one minute at the start of each school day," and that "areas that are seldom used should be flushed on a weekly basis by the custodial staff."
These procedures stem from more than an abundance of caution. The reality is that lead, like other toxins such as asbestos, is nearly impossible to eradicate completely. "We are probably never going to be 100% rid of it unless we get rid of the building," admitted Palmer.