Revenge Tour Complete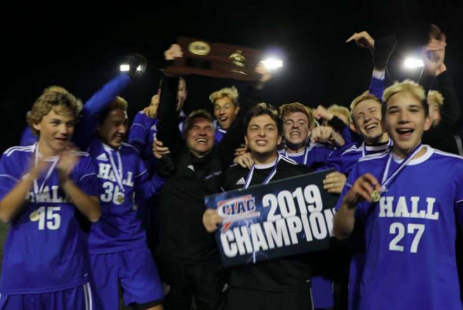 The Hall High School Boys Soccer team is back on top. After a 39 year drought, including last year's devastating loss to Glastonbury in the championship, they have finally done it and become state champs! 
Heading into the year, Hall had two goals: return to the championship and win. The Warriors lost in a rematch game to Glastonbury during this year's regular season, but the game showed the team they could compete with the best. This year's core seniors, Ted Monnes, Liam Wilson, Evan Lombardo, and goalie Max Kershen, were key to the team's championship run.
At the end of the day, though, the 2019-2020 season wouldn't have been possible without junior Evan Jones, who had a record-breaking season. "We brought the pain we felt after losing in the final with us through the whole season and made sure that we got back and finished it off right this year," Jones said. 
Hall's successful season all lead up to the big moment under the lights at Veteran Stadium on November 23. The opponent was Greenwich, ranked 14 in the state. Though Hall was favored to win, goals were scored in the first half by both teams. 
After a slow start in the second half, and many saves by the Greenwich goalie, Padraig Colligan, Evan Jones placed a perfect shot off the goalie's fingertips. The ball rolled towards the goal and sophomore Conolan Wilson, who also scored Hall's first goal, banged in his second goal of the night. 
After Wilson sunk his second goal, the Greenwich squad looked exhausted, ready to give up. With 10 minutes remaining, "Blue Wagon" could sense a victory upon them.  Wilson, ready to prove he could compete at the varsity level, knocked in his third goal with 8 minutes remaining, securing a hat trick as well as the state championship. 
As the clock hit zero, emotion on the field broke loose. Head Coach Zeke Seguro, in his 25th year as the Warriors leader, finally captured his first State Championship.  "To do it with this group, my son being on the team, it wasn't until about a minute left that I knew we were going to do it," Zeke said.
Former player Clay Courtmanche commented on the team's win, saying, "It was bittersweet. I couldn't be more proud of everyone on that team. It inevitably brought me back to our sad end of last season, but seeing [Coahc] Zeke's face when they won was truly fulfilling."
Last year Courtmanche, now a member of the University of New Hampshire Wildcats Division 1 soccer team, scored 17 goals. This year's Jones finished off the year with 26 goals and 19 assists. Hall's junior forward, when asked how it felt to topple Courtmanche's number, said, "It felt good. Not because I was beating him, but because I knew I was making him proud." 
As the high school soccer season has come to a conclusion, they have made us all proud. The Warriors soccer program will hold on to this season forever. The 2019 Hall soccer team is back on top, and the revenge tour is complete.