Hall Robotics Team Succeeds at Competitions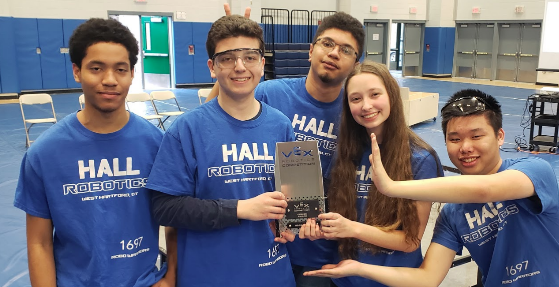 The Hall Robotics team has been especially busy over the first two weekends of 2020 with back-to-back competitions at Bolton High School on 1/4 and Middletown High School on 1/11.
Team 1697A had a rough go of things at the Bolton competition with their robot's brain dying during the first round of the day. I am very proud to say that the team members never let the stress of the situation get them down and they were able to turn things around before the end of qualifying and their robot was finally working again by their final match. The judges were impressed that even though almost everything you could think of was going wrong with the team's hardware, they managed pulled things back together for their last match where they were finally able to stack 10 cubes during a match (it's kind of a big deal in this year's game to be able to stack that many…I'm pretty sure the world record is 13 cubes right now). The team was awarded the Judges Award which is presented to a team that the Judges determine is deserving of special recognition. Judges consider a number of possible criteria for this award, such as team displays of special attributes, exemplary effort and perseverance at the event, or team accomplishments or endeavors throughout the season that may not fit under existing awards but are nonetheless deserving of recognition.
(Benny Chen, Matthew Silverman, Ashley Granquist at Bolton HS)
Building off their success at Bolton, the team spent the week practicing and getting better…improving their autonomous, their driver skills times, and their overall match strategy. The practice paid off. 1697A finished 2nd of 77 teams at Middletown's competition and they were only one of five teams to go undefeated during qualifying.
(Asley Granquist, Benny Chen, Matthew Silverman, Max Drebin, Elianna Simmons, Surya Singh at Middletown HS)
(when the realized they were undefeated in qualifying…)
The team was knocked out in the semifinals by the alliance that went on to win the day, but their performance on the field and in their engineering notebook interview earned the team the second highest award at the event: the Design Award. This award is presented to a team that demonstrates an organized and professional approach to the design process, project and time management, and team organization. The team's Engineering Notebook and Judges interview will demonstrate the team's ability to produce a quality robot with minimal adult assistance.
(Korin Ezell, Matthew Silverman, Justus Coulter, Ashley Granquist, Benny Chen)
From here, there are two more local events in February (Weston HS & University of New Haven), but with the Design Award, the team has qualified for the Southern New England Championship in Worcester, MA. We'll be practicing and continuing to make improvements leading up to the regional championship in March. (Keep your fingers crossed for worlds…)
Please join me in congratulating the following students on their efforts and their accomplishments with the team and at the events this year so far:
Anish Aitha (senior)
Benny Chen (senior)
Justus Coulter (senior)
Korin Ezell (senior)
Will Fallon (senior)
Ashley Granquist (senior)
Michael Medved (senior)
Matt Silverman (senior)
Surya Singh (senior)
Daniel Stein (senior)
Awab Ali (junior)
Cameron Hurley (junior)
Eli Stevens (junior)
Anish Aitha (sophomore)
Veronica Copeland (sophomore)
Teddy Zhang (sophomore)
Zina Zhao (sophomore)
Aidan Albert (freshman)
Jack Barter (freshman)
Omar Bhatti (freshman)
Max Drebin (freshman)
Zak Lodi (freshman)
Elianna Simmons (freshman)
Kyle Zheng (freshman)