Voce di Coeli Takes on ICHSA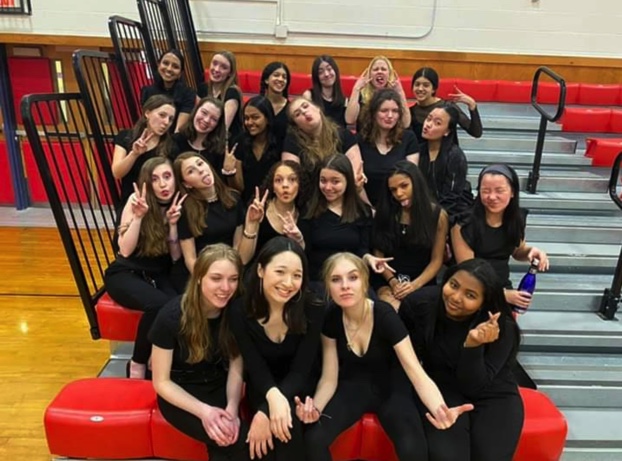 This past month, Hall's very own Voce di Coeli made its first venture into the world of a cappella competition at the ICHSA (International Championship of High School A Cappella) quarterfinal in Bellport, New York. While we didn't walk away with any prizes, the contest was super fun and we learned so much to get hyped for next year!
Our 12 minute set included 3 fun pop tunes: Halsey's 'Without Me', Katy Perry's 'Rise' (arranged by the fabulous Vivian Hayward), and Fergie's 'Big Girls Don't Cry' (arranged by yours truly). Although this is somewhat of a departure from the boring, churchy tunes people associate with Voce, I think it suffices to say that we killed it and enjoyed ourselves at the same time.
 ICHSA was also Voce's first experience adding choreography to our performance. We learned so much about how to choreograph a set for a cappella competition, and also learned proper mic technique so that we could sound like the rockstars we are.
A major focus of ICHSA is on student arranging, something that you are sure to hear more of in Voce's future. For me, this was my very first arrangement, and I had no idea what I was getting myself into at first. However, under the patient guidance of Mr. Brett Boles, Hall's choir director, I was able to make an awesome finished product that I am so proud of. I already have plans for next year, and I am so glad that this experience will allow others to gain the skills I did and experience the joys of arranging.
This competition also gave many Voce members the opportunity to flex their fantastic solo skills, especially on the student-arranged pieces. The variety of solo voices further supported the group's message of girl power and self actualization.
The trip to Bellport involved an overnight hotel stay, which was so awesome and so much fun! I don't know if anyone else slept, but my room certainly didn't.(P.S. This is where your Voce Valentines money goes…)
"It was the biggest adrenaline rush of my life before we went out on that stage," says one member, "I was a little terrified, but it was so fun and sooooooo worth it."
When asked if they want to come back next year, the group replies with an emphatic "YES!!", so stay tuned for ICHSA 2021!