The Culture Jeff Billing Has Created for the Hall High School Running Program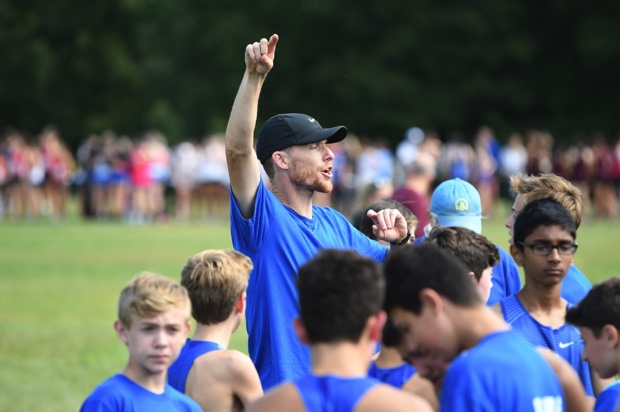 With four straight years of class state championships and team bonding like no other, the Hall High School running program has taken the scene by storm. Each year the team has produced college athletes running and competing at schools like Dartmouth, Villanova, Bates, and many more. But it's not always about getting a Division 1 scholarship; it's about the family. 
The running program at Hall began to blossom five years ago after Jeff Billing took over the role as head coach of the cross country team. Since his hire, the program has changed into a safe place. A place where a newcomer who has no athletic ability can become the next Everett Hackett (a Hall alumnus who recently ran in his second Olympic Marathon Trials). A place where a freshman who thought he was good at soccer, gets cut from the team and then turns into the next Trey Cormier (a 2019 graduate now running for Dartmouth University). Or just a place for friends to go on a run while engaging in a conversation about who is the G.O.A.T., Lebron James, Kobe Bryant or Michael Jordan.
Coach Billing has developed a program where every individual feels comfortable and good about themselves as athletes. 
So what makes Billing unique?
After running three seasons of cross country, I have experienced many practices, all of which start with a motivational lecture. These lectures motivated us as runners to work harder, and Billing made each of us feel like we could do anything, as long as we put in the daily grind. 
Coach Billing, in an interview, talked a little bit about his motivational speeches at the start of practice, "Thinking all the way back to High School, I was the kid on the XC/Track team that was finding ways to motivate everyone." 
A specific story from high school that popped into Billing's mind during our conversation was about one of his motivational techniques to get inside one of his teammates, "I remember one 4×800 teammate was a huge Providence college fan and they had a basketball player named God Shammgod. Whenever he ran I would scream at him different things about Shammgod and Providence" Billing chuckled. 
Billing informed me on what his main messages were during his early years of pre-meet speeches. "Sometimes during that first year (coaching in California at age 25), I just started giving pre-meet speeches about the work we had put in, how great we were going to run, how tough we were. It became a tradition the kids looked forward to before every race."
Four words that Billing thinks about as he delivers his lectures at Hall High School are, "Kindness, humility, sacrifice, teamwork,"
I asked Coach Billing what he would say if there was one thing he could tell all the athletes he has ever coached, and he responded, "challenge yourself to be the best person you can be. Find things you really care about and them to the best of your ability. Then also, zoom out every once in a while, take a deep breath and appreciate all the things you have in your life."
One student-athlete who has been able to compete for Coach Billing is Drew Taylor. Drew, a junior at Hall High School, has run five seasons for the running program, three with cross country and two with indoor track. Taylor spoke on his patience through his five seasons, and how the leadership around him made him believe one day, he would be at the top. "I can say I've only contributed to this past indoor track seasons success." Taylor expressed, "But looking up to the Miller Anderson's, Trey Cormier's, and runners of that caliber as a freshman and sophomore, it encouraged me to work harder and push myself further to experience the success and championships they did." For people who don't know Miller Anderson and Trey Cormier, they were two of the most dominant runners across all three seasons in last year's 2019 class. These two names will live in the Hall running program forever.
When asked what he has learned from Coach Billing and how it will help him later in life, Taylor responded by pulling out a quote from one of Billing's motivational lectures and praising his former algebra teacher and baseball camp counselor. "Get comfortable being uncomfortable." Taylor said this quote is a phrase from Billing that will forever stick with him.
Billing has had a mindset for his athletes that you don't shave seconds off your P.R. and magically get faster without working your tail off. After years of experience in the sport, Taylor wrapped up his interview by saying, "Workouts, races, and sometimes regular runs can be uncomfortable, but to be successful as a runner, embracing that discomfort and pushing your mind past the pain is necessary." 
Mentioned earlier, Coach Billing is not only a coach for running but has made a profession in teaching mathematics. He has made it one of his top priorities to send out constant emails throughout the season with links to spreadsheets on each individual's improvements, statistics, and even converting times when a particular course seems more challenging than the standard and consistent 5K. Completely optional for any coach to do such a thing, but Billing makes it his priority because he knows how much the statistics speak to the students. It makes an athlete feel better about themselves when they look at a spreadsheet, finding out they have improved their race average by four minutes from last season. Even with one hundred thirty plus runners, Billing treats each individual with tough love and motivation.
This winning culture that Jeff Billing continues to build is thriving as each season passes. He continues to showcase his leadership and teach the runners in front of him to become leaders of their own. Senior captain of this past cross country season, Brandon Wolmer, consistently talked with Coach Billing about his role on the team, and later was able to find himself as the man that everyone looked up to for some inspiration.  
During his years running cross country, Wolmer was able to impact the team any way he could, even after dealing with Tommy John Surgery from baseball. Coach Billing helped him through the process of rehab, and along that journey, gave him numerous tips on how to be a leader. 
I asked Brandon, what Coach Billing has meant to him in his time at Hall. "Coach Billing has meant the world to me," Brandon replied. "He is not only my coach but someone I know I can go to with anything in my life." Wolmer expressed.
"He has taught me that everyone has a purpose no matter how good or bad that person is at something."
If there is one thing that has stuck with me during my years of cross country competing for Coach Billing, it's that no one is forcing you to run every day, no one is forcing you to do anything, you choose what you make of your life and how you go about trying to be the best version of yourself. 
"Get comfortable being uncomfortable."