The Reign of The Tiger King: A Breakdown of Quarantine's Most Talked-About Show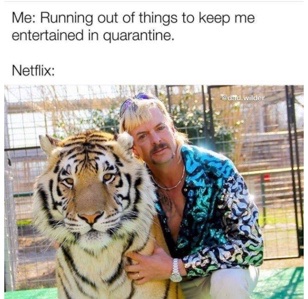 The monotone routine of quarantine is pretty much universal: wake up a little (maybe a lot) later than usual, get semi-ready (pajamas have suddenly become acceptable school attire), log on to Google Meets for a maximum of 3 hours, and then spend the rest of the day indulging in activities you didn't have time for prior to COVID-19. 
For plenty of Hall students, that activity is consuming mass amounts of television. Streaming services like Hulu and Netflix give many teens access to hundreds of shows and movies, with no need to wait between episodes or even seasons. And in a time where a mundane schedule seems inescapable, the more dramatic the show, the better.
For this exact reason, Joe Exotic, Carol Baskin, and hundreds of big cats have collectively appeared on many people's "must-watch" list. If you haven't seen the show itself, you've probably seen memes about it on almost every social media platform. 
The program has even inspired multiple articles in The New York Times for capturing the attention of viewers across the nation. As a teenager who hasn't watched Tiger King, you may be wondering: How, and why, is this show so popular? I decided to see for myself.
To start off, I investigated the cover art of the show on my favorite streaming platform, Netflix. They say not to judge a book by its cover, but no one ever said anything about reality television programs! The display art depicts a middle-aged man sporting a mullet, surrounded by a tiger print pattern. In the end, this man ended up acting as one of the most important characters in Tiger King. 
Joeseph Allan Maldanado-Passage, better known as Joe Exotic, is the "Tiger King" that the show centers around, a self-proclaimed "gay, gun-carrying redneck with a mullet," and, evidently, a zoo with over 250 tigers and lions. Joe certainly draws in viewers with his interesting combination of personality traits, and the way these characteristics impact his interactions with other people within the show.
The individual Joe clashes with most in the program is none other than Carol Baskin. Baskin has acted as the inspiration for numerous TikTok sounds, Twitter memes, and even inspired my math teacher to wear a Carol-esqe flower crown during our virtual office hours (hey, Ms. Hudson!). Carol Baskin advocates for the rights of big cats, and even runs a rescue on her own property. She actively opposes Joe, and other zoo-owners, becoming his biggest rival. 
As Joe begins to uncover dark secrets about Carol Baskin's past, viewers are sucked into a world filled with mystery fires, unfaithful business partners, amputated limbs, uncracked cases, and even death.  All of these dramatic events packed into just one season makes Tiger King an easy show to "binge-watch." With only 7 episodes, lasting just 45 minutes each, it doesn't seem like much of a commitment to viewers perusing through options on Netflix. 
Michael Cherny, a current Senior, echoes her sentiment about the characters in the program, asserting that "crazy people always draw viewers in." 
Dara Sadinsky, a member of the class of 2021, attributes the show's popularity to its "blatant absurdity."  Dara continued on to call the show a "good way to replace the constant thoughts of COVID," capturing an underlying factor that may have contributed to Tiger King's fame. 
In the age of COVID-19, real-life feels like a movie; immersing ourselves in the drama, the triumphs, the failures, the lives of other people may provide much-needed comfort.