What's on My COVID Playlist?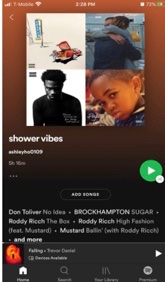 Even before the quarantine started, we have all had our go-to playlists to listen to. Mine is called "Shower Vibes" and it's the only playlist I really listen to. There's a mix of many genres within the playlist. 
Recently, K-Pop has made its way through the playlist, specifically BTS. They are definitely at the top of the list for favorite boy bands in the world. No one can top One Direction, though. 
Anyway, BTS has gained millions of followers since they debuted in 2013. They started from nothing and became this huge hit, receiving many awards, including a few Billboard awards and AMA awards. 
Some of my favorite songs of theirs that are always on repeat are: "Boy With Luv" (feat. Halsey), "IDOL," "Airplane Pt. 2," "Home" and a lot more making it so hard to choose one favorite. Many of their songs are performed with intense choreography that gets super tiring after doing one dance.
Moving on from K-Pop, I have also been listening to a lot of NAV songs. Going back to the Bad Habits album, I would say that "Habits" and "Tap" are the top two songs that I listen to over and over again. Those songs will never get old, as long as nobody ruins the song for me. That album will always be good to listen to in the car for a long drive and when staying awake might be a little tough.
Throwback songs are always going to be in any playlist. Whether it is a sad playlist or a hype playlist, there will always be songs to satisfy someone. "You Make Me Feel So…" by Cobra Starship feat. Leighton Meester is the best throwback song ever. 
Although, back in 2008, one of the greatest songs ever, "Burnin' Up" by the Jonas Brothers, was an even bigger hit. To be fair, the Jonas Brothers' comeback was pretty great. 
Let's not forget when Jay Sean had hands down the absolute best songs ever: "Down" and "Do You Remember." Sometimes, it doesn't seem like those songs were released in 2009. It also feels like 2009 was two years ago, when in reality it was 11 years ago. Feeling old yet? 
Not gonna lie, "Ignition" by R. Kelly was probably the best car ride song back in the early 2010's. However, are there any other songs that can beat "Beautiful Soul" by Jesse McCartney circa 2004 or "Stacy's Mom" by Fountains of Wayne circa 2003? R.I.P to Adam Schlesinger who passed away in April. He played the keyboard for the band. 
Listening to old songs that led to a fun jamming session makes people excited. There is no better feeling in the world than cranking up the music and forgetting about everything else, but just being invested in the song and relaxing, even if it's for 3 minutes or so.
It's safe to assume that everyone listens to music. Music is a way of expressing oneself by creating or using sounds. We love a good playlist to cancel out our boredom! What's on your COVID playlist?