Spring Sports Edition: What could have been
A crackle from Buffalo-style seeds, a grunt before a striking ace, a tip of the cap after a 30-foot eagle putt, a thunderous launch into the net, a slapping spike, and a sprint to the finish line, all of which we missed out on during the spring season. After the alarming outbreak of COVID-19 hit the United States in Mid-March, heartbreaking athletes across the universe have been filled with disappointment. 
Distraught members of the 2020 Hall-Southington Hockey team were in striking distance of a state championship before the pandemic slammed in on the West Hartford community. Hard-working musicians were preparing themselves for a heartfelt opening night performance of Pops n' Jazz on March 17, before the sudden cancellation of all after school activities. But, the folks that never got to see the field, the court, the arena, were the spring sport athletes. 
After an abrupt halt to what would have been a bounce-back season for the Hall Baseball program, Senior Captain Will Fox spoke on the cancellation, "I was really looking forward to making the state playoffs for the first time in my baseball career." 
As a motivated middle infielder and pitcher, committed to Endicott College, he had big plans of leading his Warriors to a winning season. "We had a lot of returning guys from last year and high expectations." Fox wasn't going to let anything or anyone get in the way of his goals for the 2020 Hall Baseball team, but unfortunately, he failed, and COVID-19 took down the hungry Fox. 
After a successful winter season, sophomore Cate Mancini, juniors Natalie Lytle and Max Rodman, as well as senior captain Rose Kitz, all had the mindset to destroy all competition. "My individual expectation was to qualify for nationals," Rodman expressed. 
The two-time All-Conference track star Max Rodman was a part of the Sprint Medley Relay, along with junior Izzo Lizardi, sophomore Toby Ruffo, and senior Jackson Grady. This core four was a huge success story during the Indoor Track season, earning a spot at Nationals. Unfortunately, due to the COVID-19 fiasco, the dream of competing at Nationals was disabled, which makes Rodman, along with the rest of the crew, even more hungry for the National recognition they have been waiting for their entire lives. 
For the Girl's Indoor Track team, Lytle expressed the team's mindset heading into the spring, saying, "There was so much momentum coming from indoor." As runner-ups at the State Championships, the girls realized how much potential they had. "Personally, I didn't have the best indoor season, but during that little off-season between winter and spring sports, I was still training with the team and was so excited to get back into it in the spring after being frustrated with my results for months," Lytle expressed.
The beauty of the sport is you get to keep trying to break records, beat your personal best, and have fun while doing it. Teammate of Lytle's, sophomore stud Cate Mancini was most disappointed after finding out she couldn't spend time with her teammates: "I miss being able to see and hang out with my teammates and coaches." 
Mancini explained a lesson for us all: "I'm going to definitely try to perform better at practices now knowing that they could be taken away."  The winning ways aren't over for the boys and girls running program at Hall, just on pause, but as long as everyone in the world continues to social distance, sports will be back, and Mancini, Rodman, and Lytle can start social distancing themselves from the competition. 
A man on a mission, Matt Glassman, junior tennis star, was ready to represent his team. "This spring, I was looking forward to playing in the number one singles spot and always having a fun time with my teammates," Glassman stated. "It was disappointing to find out that there would be no season, considering the amount of time and money invested in preparing for the season." 
Glassman, eager to get back on the courts, was already looking ahead. "I'm not going to let the loss of my junior year tennis season affect my senior year. I am going to continue work to have a great senior tennis season," he said. The 5'10 powerhouse is ready to bring home a state championship for his squad.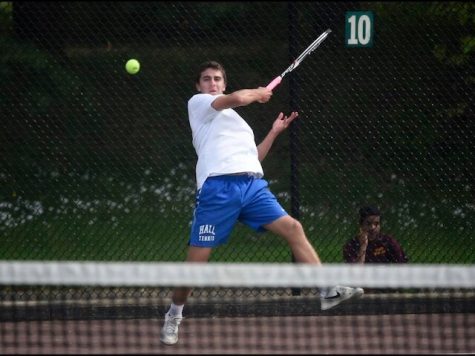 The top dogs of the boys and girls lacrosse teams at Hall, junior Aidan Guzman, and junior Lola Smith were ready to give it their all. "Compete as a team and not as individuals, play to our best ability, and get into the mindset that if we give it 110% that we can compete against anybody and be a force to be reckoned with," Guzman explained. Not a captain yet, Junior Aidan Guzman continuously showed signs of leadership, hoping one day to become a team captain. 
As for Lola Smith and the mighty girl's lacrosse team, "I was looking forward to having new players join the team and having us all bond like a family." Smith understood that to find success in high school sports, treating your teammates and coaches like family was a necessity. 
Volleyball magician, junior Vu Nguyen, was excited about the upcoming season. "Volleyball was going to be a movie. We were expecting this year to finally prove ourselves at the varsity level." No holding back for the Hall Volleyball squad, the expectations were at an all-time high heading into the season.
Three sophomore golfers on the rise, Cody Brew, Finn McHugh, and Ben Brockway, were ready to take the state by storm. After losing a talented senior class, it was time for the torch to be passed down to the underclassman studs. "I was most looking forward to picking up where the team and I left off last spring, and also meeting new people that would play," Brew expressed. "I just wanted to play the game I love."
Brew's 39.8 stroke average, which was hoping to be lowered to 36 or below, wasn't the only talent on the golf team. "It killed me when our state tournament for hockey got canceled and what I really wanted wasn't the trophy, it was to compete, I'd rather lose than not play at all. So that's what I was most looking forward to, competing with my boys," sophomore Finn McHugh stated. The golf team was ready for competition, and these three killer sophomores would have done some severe damage across the state. 
The community missed out on some stellar play from baseball, softball, lacrosse, tennis, golf, volleyball, and track. But the best thing to do is move on, show up next season more motivated, and cherish every moment like it's your last. You only get these four years once, so make the most of them.