The Future of Hall Esports
Esports became an official CIAC Varsity sport in 2020, turning a Hall game club into a competitive varsity sport. The 22 players in the club span across multiple Esports, all competing to win a cash prize in state-wide leagues.
The Hall Esports team has teams in League of Legends, Rocket League, and Super Smash Brothers Ultimate. These are video games that many people play for fun, however, the Esports club brings serious competition between the best players of many schools. Esports differ significantly from traditional varsity sports; it is the only sport to have a CIAC tournament for Fall and Spring. It even has a Winter season, meaning the players practice and compete in their game year-round.
This year's and last year's funds came from Daniel Zittoun, Hall High School's Principal. The extra money was a result of other sports' funding the school. But aside from sign-up fees, money had to be spent on computers and consoles to allow people of different backgrounds the chance to play. Sebastian Fortuna, the supervisor of the Esports club, said, "we were fortunate enough to win a contest that allowed us to get a free Esports lab with PCs and peripherals." He hopes that soon, the popularity and fundraisers of the club itself will accumulate funds for the team.
Although the technology was taken care of by Sebastian Fortuna, the topic of diversity gaming still affects some today. Deilanis Santana is a president of the club and a skilled Super Smash Brothers player. In her team, she feels very comfortable in her environment. She said that "Sometimes, I feel like I'll get to my game, and the other player will see me and be disappointed or think that I'll just be easy competition because I'm a girl." The gaming industry is male-dominated, making it difficult for girls to be a part of an Esports club, especially with the considerable amount of misogyny they face away from school events.
However, Sebastian Fortuna is giving it his all to help people of all backgrounds feel welcome. When asked why he wanted to supervise this club, he said, "I want to create an environment where kids can have fun. They don't have to be a part of a sport or part of anything." This is his way of providing a place for all kids because not everyone can dribble a ball or run fast. The next thing on Coach Fortuna's mind is the future of the club. Soon, it will keep on expanding, and more games will come with more competition. His main goal is that everyone gets to have fun in a place where they feel comfortable.
All of this wouldn't be possible, of course, without a proper start to the club. Last year was the first season, and it was a success. The League of Legends team nearly made the playoffs, only missing due to the top players being unable to play. Following their performance, Daniel Zittoun paid for all of the CIAC fees for the players. This fueled Fortuna's inspiration for the club. When asked what he wants out of the club, Fortuna said, "From a coaching perspective, learning values that every other sport portrays." He believes that "Esports is the even playing field that doesn't discriminate on body type, athleticism, gender, or anything." His goal is a place for kids who enjoy playing video games to learn teamwork skills and work together, and kids who aren't as athletic can do well.
In this environment, Santana was able to proudly accept the leadership of the gaming club two years ago. Now, she leads her Super Smash Brothers team in hopes of expanding their success while encouraging more of her female friends to give it a try and raise the diversity of the club.
Santana predicts, "more people will find interest in this and form teams, so this is a rapidly growing industry."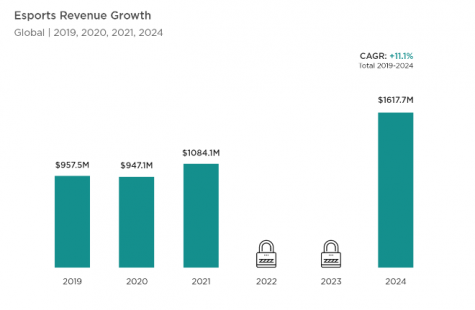 She also knows that girls are also very interested in video games, and she has tried to get many of her female friends to try it out or take a look at Esports. She wants to encourage more girls to do it, even if they feel intimidated by stereotypes.