South Carolina Defeats UConn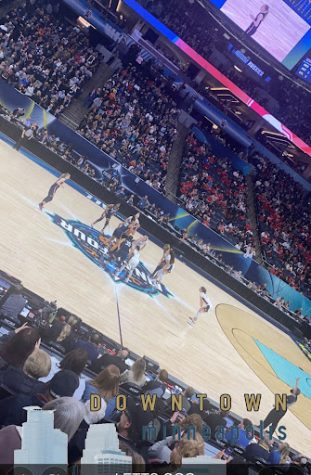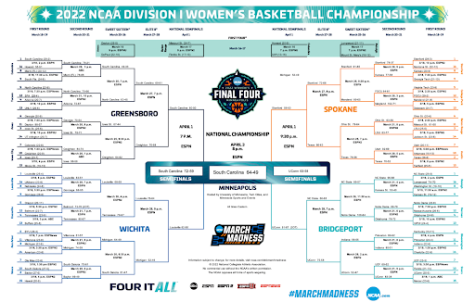 After a long, grueling night of back and forth basketball at the Target Center in Minneapolis, the South Carolina Gamecocks take home their second NCAAW Championship title! Congratulations are in order to Dawn Staley for a second national title under her belt with South Carolina. After 22 Final Four appearances, UConn is defeated in their twelfth final round with an 11-1 record.
"I never felt that South Carolina was threatened by UConn," said Bryan Moretti, Hall High School boy's varsity basketball coach. "South Carolina is way better. Right from the get go. They're just bigger, stronger, better." Throughout the season, the Gamecocks push through each game and play like it is their last.
Before March Madness begins, the bracket selection time is an exciting event that makes the tournament entertaining. Back in mid-March, the NCAA team announced that 64.62 percent of the brackets picked South Carolina to enter the Final Four and 45.92 percent of the brackets picked UConn. 
With Connecticut at a 10-0 run in the third quarter, they only trail by 9. However, Henderson gets fouled and is one for two shots at the line. She then goes for a layup that breaks UConn's 10-0 run, bringing the score up to 49-37. 
Having just minutes left in the fourth quarter, Connecticut has no choice but to foul South Carolina. Boston is sent to the line, hitting both free throws, bringing the final score to 64-49. In the end, the Connecticut Huskies have time left to bring their numbers up, leaving South Carolina the champions!
When it comes to college sports, some wonder why people care so much about it. What is the point of March Madness? Why bother with a tournament if no one gets paid? This idea comes down to two main reasons: influence and representation.
Around the world, women are still unable to participate in some of the same activities as men are, including one's education or work. If womans' sports were not important, girls across the country would be limited to role models and may feel under represented by the media. 
Brigid Bernoski, student athlete and former basketball player at Hall High School, was influenced by her family to play ball, "…my mom played in college and so did my aunt. So did all my cousins and it made me want to play." When asked what sparked his interest in basketball, Moretti responded with, "My father, definitely. He's the one that taught me the game." College sports highlight a diverse community of students and their stories, inspiring those who watch.
Not only does college sports include a diverse community, it also focuses on representation. Ryan Resch, a writer for Bleacher Report, describes the importance of March Madness as "another stage for a school, its athletic program and its student body to shine and garner invaluable respect." The tournaments represent the work that the program and collegiate athletes put in to play a game they love and speak for the school's reputation on what a successful team they possess.
As a junior, Aliyah Boston plays a huge role in taking her team to victory. Sophomore Paige Bueckers, a power player, leads the Huskies to the finals. According to ESPN, this past season, Boston racked up an average of 16.8 points per game (PPG), whereas Bueckers scored 14.6 PPG. Both Boston and Bueckers obtained 12.5 rebounds (REB), 2.0 assists (AST), and a 54.2 field goal (FG) percentage. 
Bernoski had high hopes for the Huskies, but unfortunately Connecticut's team did not fulfill them. "I wasn't expecting them [UConn] to go that far. I was hoping they'd go that far, but just based on the number of injuries they've had this season and the COVID exposures, I didn't think they were going to make it into the finals."
Bernoski also believes that the Gamecocks "deserved to win" due to their consistency throughout the season and help from the bigs on the team. While watching the game, she notices that "South Carolina played really good defense." Throughout the night, Paige Bueckers does not get much handle on the ball, which is unfortunate for Connecticut because "the team relies on her to run the offense," said Bernoski. 
In a post-championship game interview with Aliyah Boston and Holly Rowe on ESPN's Youtube channel, Rowe asks Boston how the team was able to get a great start to the game. Boston replies with, "we knew that we needed to apply so much defensive pressure, make it hard for Paige [Bueckers] and make someone else score." Based on how the game turned out, the pressure was on and Bueckers did not get the ball.
Though defeated, UConn has had an exciting season. They are the only number two seed that made the finals. In the Final Four, UConn defeats Stanford, the reigning champions, at 63-58. Come the final game, Leo Perreira, a student athlete at Hall High School, states that "UConn played well, but not their best." He believes that South Carolina simply outskills Connecticut. 
With a few new recruits to the Huskies roster, will next season be UConn's chance to win number 12? Or will the Gamecocks fight to defend their national title? Could Stanford comeback and possibly claim their 4th championship win? Or would Louisville try to claim a title? This coming year should be an even better season with a power-playing roster!