Rising Inflation Costs: A National Pandemic
Across the United States, students face a rise in tuition costs compared to recent generations due to the national inflation rate. All parts of the post-secondary education system have been affected on a macroeconomic level as the situation slowly unravels.
This fall, universities in the United States plan on increasing their tuition anywhere from 2-5%, as Emily Wadhwani, a lead college analyst, explains to Forbes.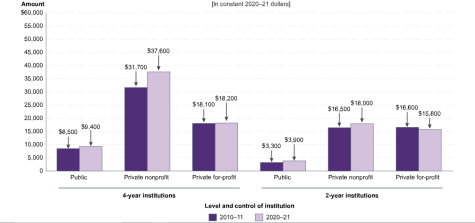 However, who is responsible for making these decisions on behalf of schools? According to the Education Commission of the States, "a majority of state policies vest tuition-setting authority in local institutional boards." Essentially, tuition costs are often determined on a state or local government level rather than by school board members. This allows public institutions to be more forgiving in terms of overall pricing.
Notably, Jane Barter, a parent of a Hall High School senior, shared her thoughts on these increasing differences in cost: "They are going to have to go with the public option because it's just all that they can afford, and they don't want to be in debt for 20 years." Using her advice as a prospective parent of a college student, she believes there are many scenarios when community college would be a vital choice in today's climate.
Colleen Peling, an AP Economics teacher for Hall High School, explained this phenomenon: "When the inflation rate goes up, what happens is each dollar gives you less purchasing power. So, that can make everything more expensive." Even so, Peling attributes many positives to pursuing a college education amidst the rising costs. Whether it be from higher wages earned in the long run or being a solid financial investment in general, she describes how students are affected after this record "40-year-high".
Yet for most students, this means more expenses added to the cost of admission rather than other critical academic assets like textbooks, housing, and so on. According to CollegiateParent, some schools are already trying their best to support students with financial difficulties stemming from price changes. Their report was already able to note that "Vassar College's Movement for Affordable Textbooks ensures that the college's libraries purchase several copies of course textbooks."
Many seniors of high schools around the nation express concern that student debt causes graduates to spend "years of their life… [paying] off their student debt," according to an anonymous Hall High School senior.
However, Biden's administration has recently announced that it will be "setting new limits on the accrual of interest, among other changes to make college more affordable." The federal government is remaining adamant a change in interest rates will improve this economic stress.
For more information, please seek specific school resources from community colleges and private institutions, AP/ECE courses, and so on.