Behind the Currents of Theater
Staff Writer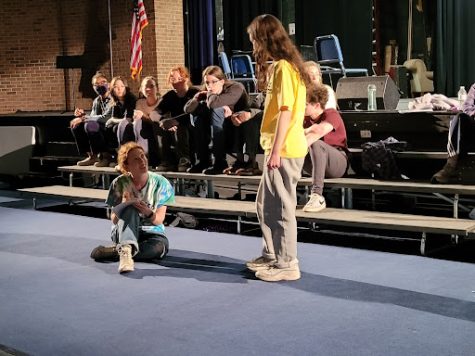 Have you ever found yourself leaving school, maybe after a club or a sport, and heard peculiar screaming, cheering, or booing? Maybe wondered "What. Is. Happening?" 
Well, that would be Hall's theater department working on a new production. Directed by Spencer Bazzano, Hall theater consists of hardworking and talented students who are passionate about acting, stagecraft, and theater in general. 
Every year the department does three productions, with past shows including "Romeo and Juliet" and "Medea." The show kicking off this year was Williams Shakespeare's "A Comedy of Errors."
By publication, the performance will have already ended, but here's a brief synopsis for those who weren't able to attend: Two sets of twins, both sets being named Antipholus and Dromio, are separated by a storm while traveling on a ship. When Antipholus of Syracuse (played by Summer Neiditz) and Dromio of Syracuse (played by Ell Ziroll) visit a town that is already housing their long-lost twins, Antipholus of Ephesus (played by Julian Long) and Dromio of Ephesus (played by Noah Mckenzie), this confuses things like the true owner of a gold chain, and an uncertainty of who's home is whom's.  In the end, the sets of twins realize they were separated at birth and all the chaos that was created concludes. 
Each one of the productions was received with endless praise, not only for Shakespeare's writing, but also for the work of the cast and crew alike. Altogether, they spent 6 weeks of rehearsal bringing the "art of emotion" (as actor Kinsey Wilson calls it) to fruition. Many of the actors said that acting is a way for them to express themselves in a way real life does not allow. 
The shows themself aren't the only part of the experience that can help someone grow; the drama community gives all those involved a sense of belonging. Everyone is there for each other, whether it be in terms of the show or one's personal life. 
Becoming involved with such a talented and tight-knit community might seem nearly impossible, but at Hall it's easy! If you are interested in being in front of the lights, exploring yourself through other characters, and having a new way to express yourself, acting might just be perfect for you. 
A year-long Acting 1 course is offered, which then can be followed by Acting 2 and Specialized Performance Study (SPC).  If you can't fit all those into your schedule, no worries! Getting involved with acting at Hall can be as simple as showing up to an audition and seeing where it leads you. 
If you are more drawn to what goes on backstage during shows, Stagecraft is another course offered here at Hall. In Stagecraft, you are taught everything that goes into production – from planning and management, to set design and construction. Even if you can't take that class, just send Mr. Bazzano (spencer_bazzano@whps.org) an email asking what opportunities are available. All the greats must begin somewhere, so those of all experience levels are welcomed! 
And, lucky enough, there is another opportunity to get involved! The next show being put on will be "Little Shop of Horrors": The story of a florist who creates a deadly plant in an attempt to woo the girl of his dreams.  Auditions for a roles have concluded, but reach out as there are still some opportunities left if you want to be a part of the crew for this musical. 
If you aren't able to participate but still want to support the program, show dates are December 15-17 at 7 pm with a matinee on December 17 at 2 pm. They hope to see you there!