Should Hall High School be an Open Campus
Students at Hall High School hope to incorporate rules for an open campus following many public schools across America who have already done so. Students feel that leaving campus gives them the opportunity to enjoy and support the likable eating establishments in the area. 
In West Hartford, getting a bite to eat is never a strenuous task as most public areas have restaurants in 5 miles radius. At Hall, students are blessed with Bishop Corner's close proximity to satisfy the hungry teenagers that rush to Dunkin Donuts, McDonald, Lox Stock, and other establishments after a long day at school. To leave halls borders during the time of 7:30 to 2:15, without parents permission, results in detention. Free periods must be spent at Hall.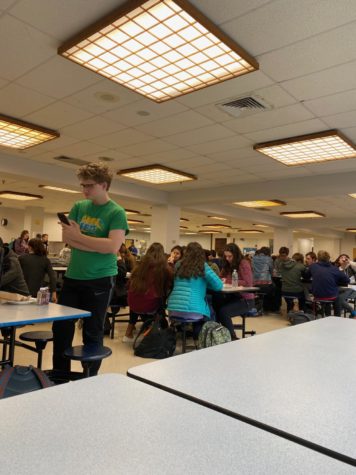 In the school's student handbook Principle of Hall High School, Dan Zutton writes that seniors are allowed to be anywhere on campus grounds. Sophomores and freshmen must be in their assigned study hall classroom during a free period or "are only allowed in the cafeteria during their assigned lunch period."  
These rules are put in place for safety precautions. The school is responsible for each student during school hours. To avoid risk,  no peer can leave the grounds in case there is any danger outside of the borders of Hall High School.  
It is the job of School Security guards to ensure that the rule of a closed campus is obeyed at school. Security guards at Hall High School are not stopping students from going off-campus to punish them, but because it's their job to protect the school from any unwanted harmful activities.
 When interviewing Jose Rivera, one of the security guards at HHS, he said, "Don't take it personal… it's not that we don't want you guys have fun it's… more important to us to keep you safe." Their job is really important considering school safety and the students. 
To further clarify why the school is not an open campus he said "they [returning students] could have a weapon or drugs. You have to make sure they are not bringing it back to school." When students leave and enter the building as they please the school environment is at risk, the administration puts these rules in place to keep that at a minimum. 
Although students deem it unfair, school policy is put in place for the conservation of peers and teachers. Upperclassman shares a different opinion on having an open campus. They see the benefits and demand the change. 
Many seniors at Hall High School believe that they should have the right to an open campus. Senior, Patrick McGann states, "As seniors, I believe that we should have the freedom to be able to leave campus during our free periods."  Other students agree that seniors have earned the freedom to have an open campus. 
Senior, Marisa Ciafone, also shares that as a student, we deserve more independence. She states "it would give us the opportunity to take our minds off the stress of school. Free time in the same environment we are stressing in is not healthy."  It is an important task to keep students in a good state of mind and by making Hall school an open campus this can be achieved.
Some pros to an Open Campus is that administration is not seeing is the fact that this gives an opportunity for the students to start developing the ability to manage time. They also take on their own responsibilities. They will be able to learn how much time is in that free period, leave to go to the stores, and how to return to get back to class on time. 
Christine Burke, parent of a student who attends a public school in Nassau New York, advocates for an open campus since she has had first-hand experience with this situation. She believes it is a great decision for school districts to make and states, "…of course, college-bound kids have to learn eventually how to manage their lives while living in a dorm so what better way to help them do that than to allow them a little freedom during their high school years, right?." Chritine repeats the idea that high school serves the purpose to assist students in life after school. She says that having an open campus furthers this training of living in an independent environment. 
Parents and teens alike appreciate the school's caution but hope for the freedom to an open campus will become available at Hall. There are cons the school reminds its student body, but there are also proven pros to counteract those. 
This decision is one Hall and Dan Zutton has been dealing with for years. The example of West Hill High School in Stamford, Connecticut, who has changed the rules to starting in 2020 students with privileges can leave school grounds, helps support the favored idea Patrick and Marisa feel so strongly about. This article is written in hopes to help the administration come to a conclusion that will benefit everyone at Hall.